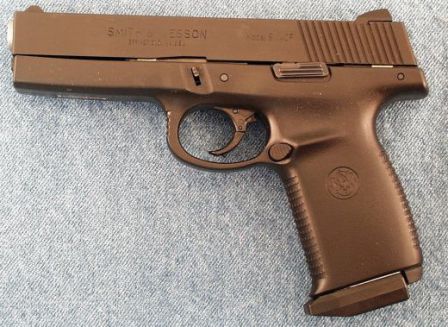 Sigma 40 F – original (pre-1999) Sigma with longer barrel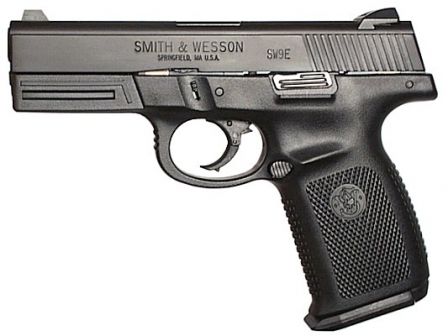 Sigma 9 E
Sigma 40 P
Buy Smith-Wesson pistols at Impact Guns online store
Action: Single Action *
Caliber: 9x19mm Luger/Para in Sigma 9; .40S&W in Sigma 40; 9x17mm (.380ACP) in Sigma 380
Overall Length: 184 mm
Barrel Length: 114 mm (4.5in) in pre-1999 Sigmas; 101.6 mm (4 in) in current versions
Weight: ca. 690 g empty
Capacity: 16 rounds (9 mm); 15 rounds (.40SW)
The Sigma series of pistols was introduced in 1994 by its first model, Sigma 40F in .40SW, following with 9x19mm version. Sigma pistols bear so much similirality to Glocks, that the lawsuit was rised against the S&W, so Smith & Wesson finally paid undisclosed sum (some millions of $$$) to Glock for violation of their patents, and then S&W received the rights to continue the production of Sigma line.
technically, Sigma pistols are recoil operated, locked breech semi-auto pistols, built on modified Browning-style linkless locking principle. All Sigmas feature Glock-type single action-type trigger with automatical half-cock and manual striker cocking during trigger pull. Sigma pistols had no external (manual) safeties. Gun frame is made from polymer, the slide and the barrel can be manufactured from the stainless steel or from the carbon steel (in so called "Value" models).
In 1999 S&W improved the Sigma series. Main change was shortening the barrel and the slide by .5 inch (12.7 mm). Other improvements included more comfortable grip checkering, slightly enlarged ejection port and addition of the acessory rail at the front of the frame (under the barrel).