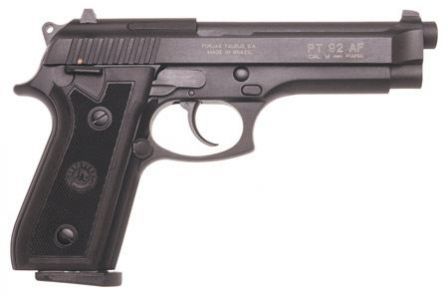 Taurus PT 92.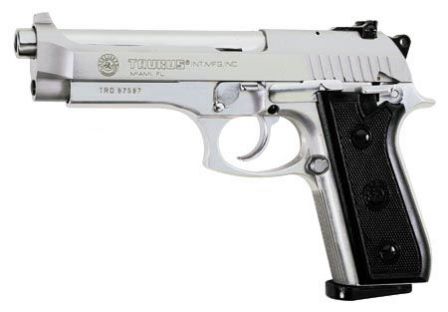 Taurus PT 99.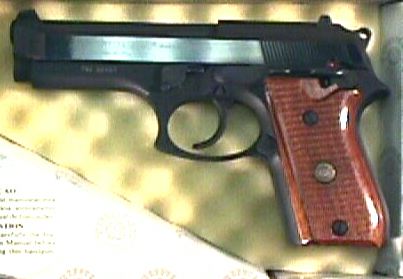 Taurus PT 92 C (compact).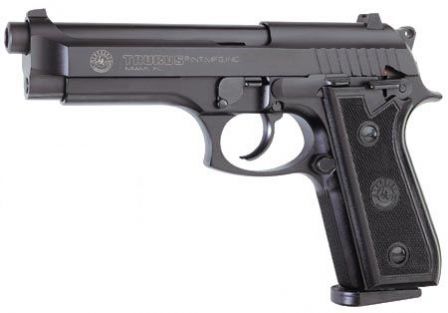 Taurus PT 100.
Characteristics
Type: Double Action (DA with Decocker in models AF-D)
Chamber: PT 92/99 – 9x19mm Luger/Parabellum; PT 100/101 – .40S&W
Weight unloaded: ca. 960 g empty (ca. 900 g empty model 92C)
Length: 216 mm (203 mm mod 92C)
Barrel length: 127 mm (108 mm mod 92C)
Capacity: 15 rounds (10 rounds for US civilian market)
The Taurus pistols are manufactured by Brazilian company Forjas Taurus SA. The original PT92 pistol was exact copy of the original Beretta 92 pistol, and PT92 still carries some of the original Beretta features, such as frame mounted safety, but, since its introduction, Taurus PT92 had been significantly improved, and currently represents affordable pistol of high quality.
Technically, PT92 is a recoil operated, locked brech pistol, that uses shor recoiling barrel with underbarrel locking piece that tilts down to unlock slide from the barrel (Walther P38 / Beretta 92 type locking). The trigger is of Double Action type, with ambidextrous frame mounted manual safety. On models marked AF-D safety also acts as a decocker when pressed all the way down (below the "fire" position). When safety is in "safe" position, it locks the slide and disconnects the trigger and sear. Current PT92 and its derivatives also featured automatic firing pin safety. The frame and slide could be made either from carbon steel with blue finish or from stainless steel wit polished finish. Sights are of fixed type.
Apart from PT92 itself, Taurus makes some derivatives of its basic model:
PT 92 C – compact model, with shortened grip, slide and barrel. Accepts standard PT92 magazines.
PT 99 – similar for PT 92 except that the rear sights are micrometer click ajustable.
PT 100 – similar to PT 92 but chambered for .40SW cartridge
PT 101 – similar to PT 99 (ajustable sights) but chambered for .40SW cartridge