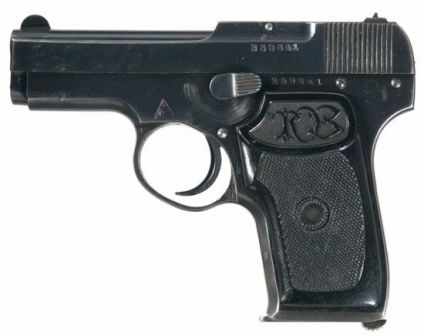 Korovin TK pistol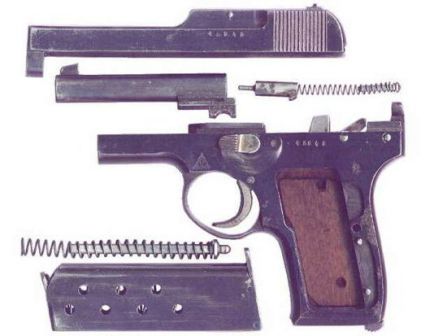 Korovin TK pistol, partially disassembled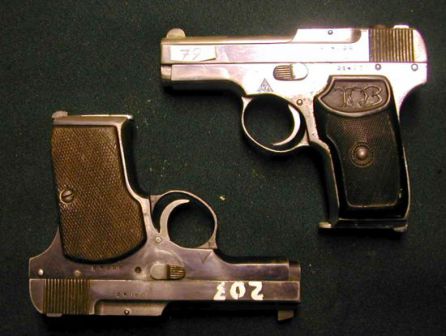 Two TK pistols (from forensic collection). Top is rare late production chromed version with plastic grips, bottom is standard blued version with checkered wooden grips.
| | |
| --- | --- |
| Type | Single Action semiautomatic |
| Caliber | 6.35x16SR Browning / .25ACP |
| Weight unloaded | 423 g |
| Length | 127 mm |
| Barrel length | 68 mm |
| Magazine capacity | 8 rounds |
The TK (Tula, Korovin – design of Korovin made in Tula) pistol bears the distinction of being the first Soviet-made semiautomatic pistol. Sergey Korovin developed his first 7.65mm (.32ACP) military type pistol in around 1922, while working at famous Tula Arms factory (TOZ). However, this weapon was overly complicated and too heavy, while shooting only marginally powerful cartridge, but in around 1925 he was requested to develop a pocket-type 6.35mm (.25ACP) pistol for sporting and civilian use. The request came from government-sponsored Dinamo sport organization. By the 1926 Korovin completed his design, and TOZ commenced production of the new pistol in late 1926. Next year this weapon was officially approved for use at "Pistolet TK obraztsa 1926 goda" (TK pistol, model of 1926). As this pistol was not intended for military service, it bore "civilian-type" markings, although it was never sold on open market for average Soviet people. Most TK pistols were either issued as self-defence weapons for high ranking officers of Red Army or above-average officials of Communists party and Soviet government, or were used as presentational pieces for various achievements. Another major customer for TK pistols was the NKVD. Apparently, several tens of thousands of TK pistols were made in Tula by TOZ between 1926 and 1935.
It is also worth of note, that while TK was initially designed around a standard 6.35mm Browning / .25ACP ammunition, its strength allowed Soviet arms makers to load similar cartridge to somewhat higher energy levels (about 20 to 25% increase in muzzle energy and penetration).
TK pistol is blowback operated pistol. Trigger is of single action type, striker fired. Manual safety is located on the left side of the frame, above the trigger. Magazine is single stack, magazine release is located at the bottom of the grip. Grip panels can be made of black plastic with "TO3" (TOZ) logo, or, alternatively, wooden grips panels were used, either with diamond checkering or larger vertical grooves. Since early 1930s and until the end of production cycle, grip screws were replaced with TT-type spring locks. Sights were fixed.