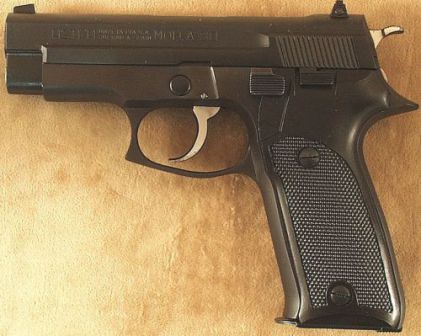 Astra A-80 in .45ACP.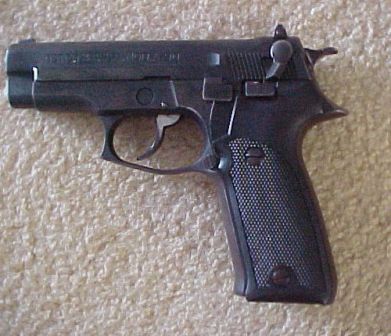 Astra A-90.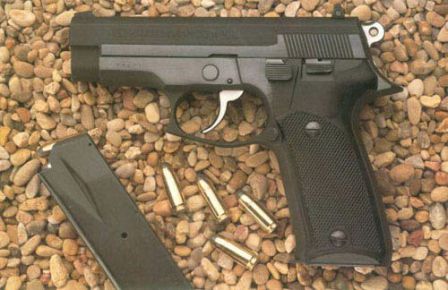 Astra A-100.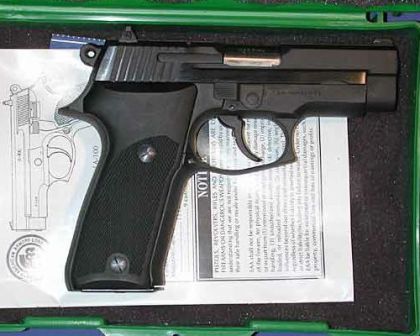 Astra A-100 (right side view).
Characteristics
| | | | |
| --- | --- | --- | --- |
| | A-80 | A-90 | A-100 |
| Type: | Double Action | Double Action | Double Action |
| Chamber: | 9×19 Luger/Parabellum; 9x23mm Largo; .38 Super; .45ACP | 9×19 mm Luger/Parabellum or .45ACP | 9×19 mm Luger/Parabellum, .40SW or .45ACP |
| Weight unloaded: | 985 g | 985 g | 985 g |
| Length: | 180 mm | 180 mm | 180 mm |
| Barrel length: | 95 mm | 95 mm | 95 mm |
| Capacity: | 15 rounds (9 mm) | 17 rounds (9 mm) or 9 rounds (.45) | 15 rounds (9 mm), 13 rounds (.40) or 9 rounds (.45) |
The Astra A-80, A-90 and A-100 pistols were developed by Spanish company Astra-Unceta y Cia SA, in 1982, 1985 and 1990, respectively, and are very similar in appearance and general design, differing mostly in safety features.
The Astra A-80 had been patterned after famous Swiss-Germany designed pistol SIG-Sauer P-220. A-80 features wery similar frame and slide shape, similar recoil-operated, locked breech design with improved Browning-style linkless locking and one large lug that locks into the ejection port in the slide. The double action trigger with frame mounted decocker on the left side of the grip is also patterned after the P-220. The A-80 also features firing pin safety, that locks the firing pin away from the cartridge primer untill the trigger is pressed. Another feature that is different from the SIG-Sauer P220 is that A-80 had double stack, high capacity magazines.
The Astra A-90 pistol appeared in 1985 as an improvement over the A-80 in terms of safety. Being very similar to A-80 in all other aspects, the A-90 featured two-piece firing pin with firing pin safety that locks frontal part of the pin, plus ambidextrous, slide mounted manual safety, that, when engaged, removed the rear part of the firing pin from the hammer path, regardless the position of the hammer. Accompanied with the frame mounted decocker, inherited from A-80, this resulted in very safe, but also very complicated design.
The Astra A-100 (first appeared in 1990) was an attempt to simplify the A-90 design while retaining the high level of operational safety. The manual safety had been removed and the operational procedures are similar to those of the A-80 pistol.