AMT Automag II pistol, caliber .22WMR, left side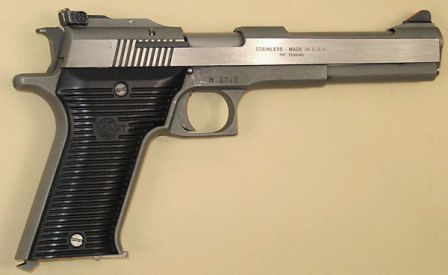 AMT Automag II pistol, caliber .22WMR, right side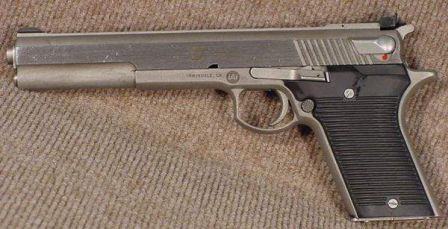 AMT Automag III pistol, caliber .30 M1 carbine
AMT Automag IV pistol, caliber .45 Winchester Magnum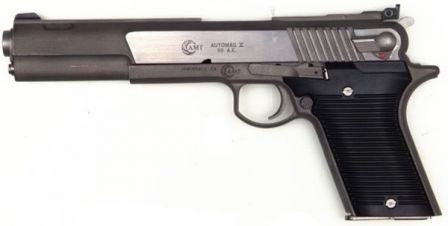 AMT Automag V pistol, caliber .50AE, left side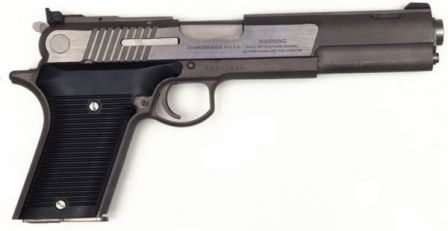 AMT Automag V pistol, caliber .50AE, right side
Automag II
Automag III
Automag IV
Automag V
Type
Single Action semiautomatic
Caliber(s)
.22WMR
.30 Carbine, 9mm Win Mag
.45 Win Mag
.50AE
Weight unloaded
910 g (152mm barrel)
1280 g
1300 g
1310 g
Length
n/a
n/a
n/a
n/a
Barrel length
86, 112 or 152 mm
(3 3/4, 4 1/2 or 6 inch)
165 mm (6 1/2 inch)
165 mm (6 1/2 inch)
165 mm (6 1/2 inch)
Magazine capacity
9 rounds
8 rounds
7 rounds
7 rounds
The "new" Automag pistols emerged during late 1980s from the same Harry Sanford who brought the original Auto Mag pistols about 15 years earlier. The "new" Automag pistols (note that they name is spelled in single word, unlike the name of 1971-vintage original .44 Auto Mag) were produced by the company, owned by Harry Sanford and known either as AMT (Arcadia Machine and Tool) or IAI (Irwindale Arms Inc). After some turbulences, AMT / IAI finally went out of business by late 1990s, and sold rights to Automag pistols to another company, Galena Industries, which also did not lasted long. However, in the 2004 the re-established High Standard Corporation announced that it will make Automag pistols; today (spring 2006) only .22WMR Automag II pistols are listed in High Standard price lists. Original AMT Automag II pistols were manufactured since 1987. AMT Automag III pistols were made between 1992 and late 1990s, and Automag IV and V were produced circa 1993-96.
It must be noted that original AMT / IAI pistols were not known for great reliability or durability; most models were "hit or miss" propositions, with some specimens being rather well made and providing good service, and some others being among the worst jam-o-matics available for the money.
The Automag pistols were never really intended for any serious defensive of security use; they key niches were plinking and hunting. The only pistols from Automag line that were more or less suitable for concealed carry were .22 caliber Automag II with 3 3/4 or 4 1/2 inch barrels. Also, all centerfire Automag pistols had rather large grips, necessary because of use of relatively big and long cartridges.
Automag pistols were single action semiautomatics with exposed hammer and manual, slide mounted safety that blocked the firing pin but not hammer, sear or trigger, thus not permitting the safe "cocked and locked" carry. Most parts were made from stainless steel. Basic actions were of two types – .22WMR (rimfire) Automag II pistol utilized simple blowback action with radially grooved chamber (to resist and delay initial extraction when pressure in the barrel still high); larger caliber (centerfire) models III through V utilized locked breech, short recoil action of Browning type. Locking was achieved by tilting barrel, with single lug engaging ejection window in the slide. Unlocking was controlled by cam-shaped slot in the lug below the chamber of the barrel, which interacted with the slide stop axis pin. Magazines are single stack on all models, magazine release is in the base of triggerguard on models III to V, and at the bottom of the grip on Automag II. Sights are of adjustable, target type on all Automag pistols.