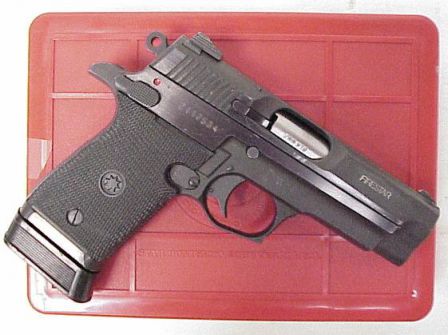 Star Firestar M-43, 9mm.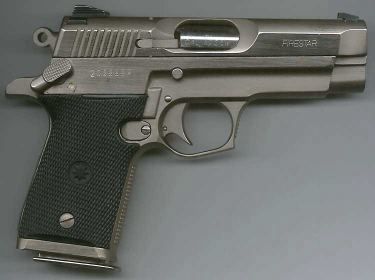 Star Firestar M-40, .40S&W.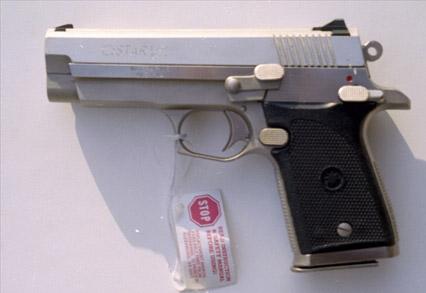 Star Firestar M-45, .45ACP.
Characteristics
Type: Single Action (M-43); Double Action (M-40 and M-45)
Chamber: 9×19 mm Parabellum (M-43); .40 S&W (M-40); .45 ACP (M-45)
Weight unloaded: 855 g (M-43 and M-40); 1025 g (M-45)
Length: 165 mm (M-43 and M-40); 170 mm (M-45)
Barrel length: 86 mm (M-43 and M-40); 97 mm (M-45)
Capacity: 7 rounds (M-43); 6 rounds (M-40 and M-45)
The Firestar pistols, also known as models M-43, M40 and M-45, were designed and are still being manufactured by the Spanish company Star Bonifacio Echeverria SA. These pistols were announced early in 1990s and are sold worldwide for civilian market.
All Firestars are compact, steel-framed semi-automatic pistols. Firestar pistols are recoil operated, with Browning cam locking and short barrel recoil. Barrel muzzle is externally cone-shaped to achieve the best fit into the slide for improved accuracy. 9mm Firestar M-43 is a hammer fired, single action pistol with frame mounted, ambidextrous safety lever. .40sw M-40 and .45acp M-45, unlike their 9mm brother, are double action pistols with similar frame mounted ambidextrous safety that allows for "cocked and locked" carry (hammer is cocked and safey is applied). All Firestars featured automated firing pin safey and magazine disconnect safety. Single column magazine holds 7 rounds in 9mm M-43 pistols or 6 rounds in .40sw M-40 and .45acp M-45 pistols. Also, extended 8 rounds capacity magazines available for 9mm M-43 guns.
Firestar pistols are claimed to be ones of the smallest guns in their respective calibers, but, obviously not the lightest ones. The solid steel construction makes these guns extremely sturdy and reliable, and additional weight greatly improves recoil control and makes the shooting quite comfortable, despite the powerful ammunition and small size of the guns.