CZ 75 P-07 Duty pistol in basic version, with decocker levers installed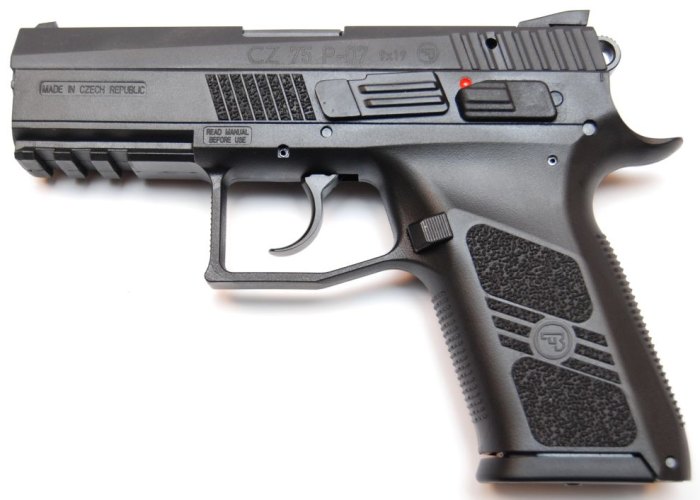 CZ 75 P-07 Duty pistolwith manual safety levers installed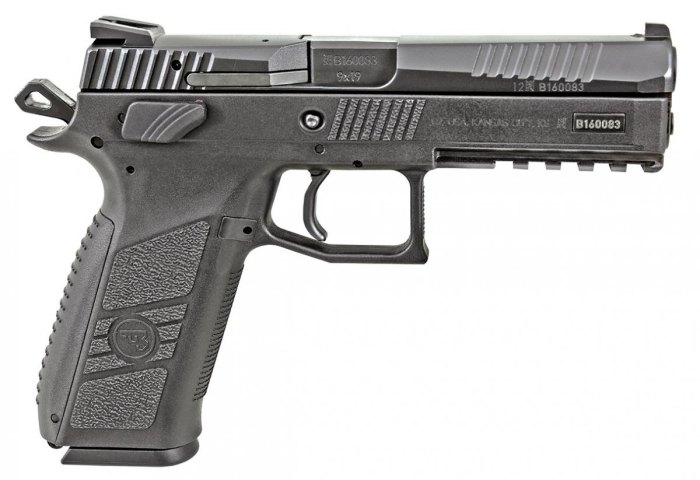 CZ 75 P-09 Duty pistol
CZ 75 P-07

CZ 75 P-09

Trigger type

DA / SA, hammer

Caliber

9×19, 9×21, .40SW

9×19

Weight, empty, g

770

840

Length, mm

185

205

Barrel length, mm

95

115

Capacity, rounds

16 (9mm), 12 (.40)

19
CZ 75 P-07 Duty pistol is a next generation member of the famous CZ 75 family of pistols, produced in Czech Republic by CZ-UB factory since 2009. P-07 is a versatile medium-sized pistol suitable for most purposes like police duty use and concealed carry. The P-09 Duty pistol, introduced in 2013, is a larger, service-type version of the P-07. It is mechanically similar to P-07 but features longer barrel and grip that host large 19-round magazine.
By opinion of this author, CZ P-07 Duty pistol could be considered as a separate development because it differs from the original CZ 75 in almost every respect, but it seems that CZ-UB prefers to keep the legacy of its flagship CZ 75 pistol, which is understandable.
CZ 75 P-07 Duty handgun is short recoil operated, locked breech weapon that uses modified Browning locking with tilting barrel. Frame of the gun is made from high strength polymer. Gun is fed from double stack, single feed magazines. Pistol is equipped with indigenous DA/SA "Omega" trigger system with exposed hammer and convertible ambidextrous controls. Each P-07 pistol is supplied with decocker levers installed, which suggest carry with hammer lowered over loaded chamber and firing first shots in Double Action mode. However, for those who prefer "Cocked & Locked" carry each gun is supplied from the factory with alternate manual safety levers, which any user can install in minutes instead of decocker levers. Magazine release is of traditional button type, and can be installed on either side of the grip, slide release lever is located only on the left side. Standard sights are of fixed, three-dot type. Picatinny rail for accessories is provided on the frame below the barrel. CZ P-09 handguns (as well as CZ P-07 made since 2014) also feature replacement grip backstraps of three different sizes.