9mm Colt SSP pistol (Stainless Steel Pistol, also known as Colt M1971) was designed during late sixties and early seventies and then shelved until XM9 trials, which began in late 1970s and in 1985 were won by Beretta M92 pistol. It was then voluntarily withdrawn from trials by Colt for unpublished reasons, and never manufactured for commercial sales. This was a big mistake on part of the Colt's management, as back in 1970s and even 1980s this pistol had a great sales potential. However, this was not the only mistake made by Colt's top heads during that time frame, which almost killed this once famous company by the turn of 21st century.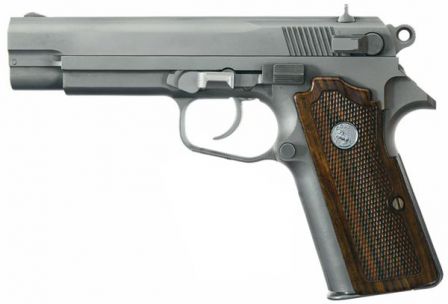 Colt SSP pistol , 9mm
Colt SSP pistol was made almost entirely from stainless steel. It used traditional Browning High-Power type locking breech, short recoil action, and a double action trigger with exposed hammer and ambidextrous slide-mounted safety. Hammer en-bloc unit is made removable for ease of maintenance. Magazines were double stack, and held fifteen rounds of 9mm ammunition. Sights were fixed, with the rear sight being dovetailed to the slide. Similar prototype pistols were also made in .45 ACP, with magazine capacity limited to 9 rounds. It was also briefly promoted with optional 9mm SSB (Salvo Squeeze-Bore) barrels and ammunition, which fired several (usually three) lightweight conical bullets, stacked into the case, per each shot.