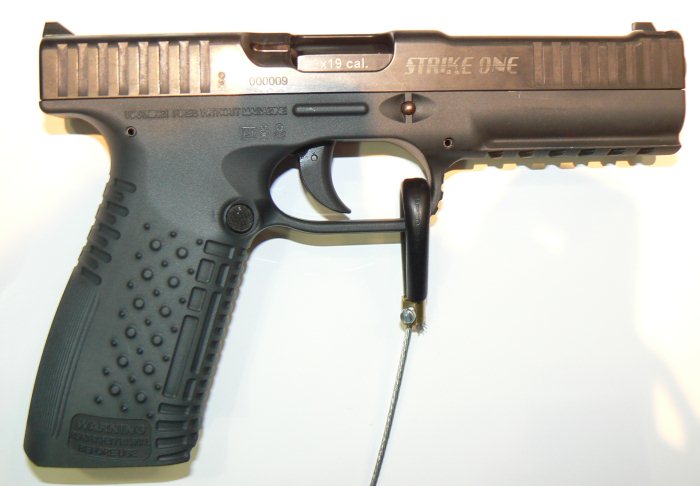 "Strike One" pistol (prototype, as shown at IWA 2012)

"Strike One" pistol partially disassembled, showing barrel with locking piece in place

"Strike One" pistol slide, barrel and locking piece (separated from the barrel)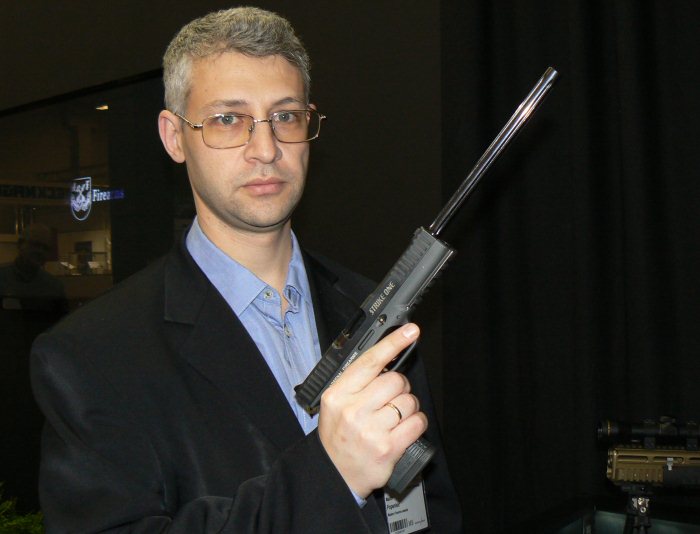 "Strike One" pistol with extended barrel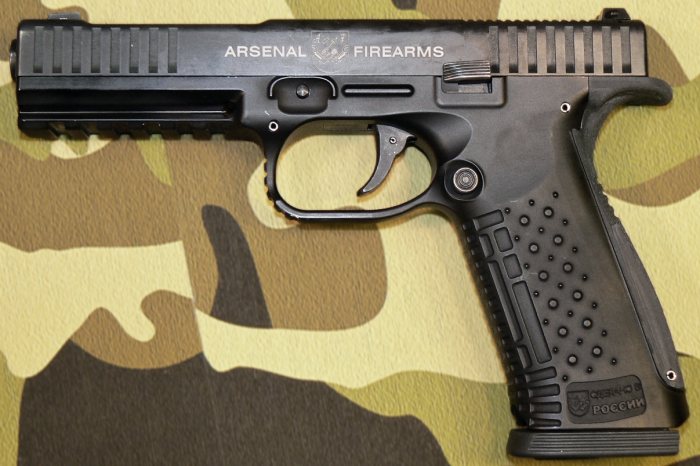 9mm "Strizh" pistol, made in Russia to be offered to Russian Armed Forces and Police. 4th generation prototype, produced in summer of 2012. Note numerous differences from eralier prototype, shown above.
Photo by Arsenal Firearms

Current production version of the Strike One pistol, manufactured in Italy by Arsenal Firearms

This video brought to you in cooperation with TheFirearmBlog
| | |
| --- | --- |
| Type | Semiautomatic, Single Action (pre-cocked) |
| Caliber(s) | 9×19 Luger/Parabellum, 9×21 IMI, .357SIG, .40SW |
| Weight unloaded | 750 g (with polymer frame) |
| Length | 210 mm |
| Barrel length | 128 mm |
| Magazine capacity | 17 rounds (9mm)< 13 rounds (.357, .40) |

"Strike One" pistol is a product of an young international company Arsenal Firearms, which has headquarters in Russia and manufacturing facilities in Russia, Italy and Austria. Prototypes of this pistol were first displayed to the public in March, 2012 during IWA-2012 exhibition in Nuremberg, Germany. Strike One pistol, which is also known as «Стриж» ("Strizh", Swift bird) in its Russia-made version, was intended to compete for the role of a service pistol for various military and law enforcement forces (in Russia and elsewhere). It was officially submitted to Russian military trials, but this lead to nothing (depending on the source you trust, either because of mechanical issues with pistol or because of armament politics). Because of that, initial plans to produce this gun in Russia were shelved, and as of now its "internationalized" version is mass produced in Italy as Strike One.

"Strike One" is a semi-automatic pistol which uses polymer or ergal alloy frame with different upper kits (barrel and slide) for several calibers. It utilizes striker-fired trigger system with Glock-style pre-cocked striker which can be fully cocked only through the pull of the trigger. Like the Glock, Strike One pistol does not offer a "second strike" capability in case of misfire. To ensure lowest possible bore axis and good accuracy, Strike One pistol employs slightly unusual version of the short recoil operation. Roots of this system could be traced to the century-old system, developed at the turn of the 20th century by Louis Schmeisser for Bergmann "Mars" pistol, although in the Strike One it is heavily modified. In this system, barrel is allowed to recoil against the frame in a linear motion, without any tilting or rotation. Separate vertically sliding locking piece is employed to lock the barrel to the slide during initial stages of recoil cycle. In this particular case, the locking piece is "Y"-shaped. Its upper fork part goes around the bottom of the barrel, in front of the chamber. Barrel has vertical grooves for this fork, so it can slide up and down in relation to the barrel, but moves along with the barrel forward and rearward. Outer sides of the "fork" have externally projecting lugs that engage cuts inside the slide to lock it to the barrel. Lover part of the locking piece projects down and into the frame, and has cam-shaped cut which is engaged by a cross pin, set into the frame. Upon recoil, interaction of the cam cut in locking piece (which moves rearwards along with the barrel) and stationary pin causes the locking piece to move down, disengaging its locking lugs from the slide. Once the slide is free from lock, recoil of the barrel is stopped against the steel insert in the frame, and the slide is free to complete recoil cycle, ejecting and extracting spent case. Upon forward movement, slide chambers the fresh round from magazine, and then pushes barrel forward, into the battery. Forward movement of the barrel causes the locking slide to move up and engage the slide for a positive lock.
Other features of the Strike One pistol include double stack, single feed box magazines with ambidextrous release buttons, slide stop with manual slide release lever on the left side, and an integral Picatinny type accessory rail under the front part of the frame. Optional carbine kits (known in factory literature as LRC – Long Range Conversion) include longer 300mm barrel with flutes to reduce weight and improve heat dissipation, and removable accessory kits that can be attached to underbarrel rail.