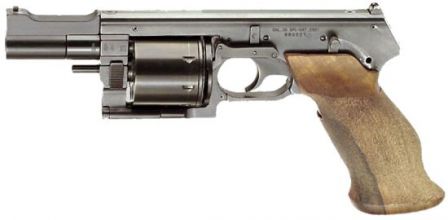 Mateba MTR-8 revolver
| | |
| --- | --- |
| Type | Double Action revolver |
| Caliber(s) | .357 Magnum / .38 Special |
| Weight unloaded | 1230 g |
| Length | 265 mm (10.4″) |
| Barrel length | 76 mm (3″) |
| Magazine capacity |  8 rounds |
The Mateba MTR-8 revolver is one of the most unusual weapons of its class, developed during the early 1980s for sport shooting, especially for rapid fire events. To achieve a minimum shot-to-shot time through minimized barrel rise, the designer of this weapon, Emilio Ghisoni, decided to put the barrel as low as possible. To do so, he put the cylinder in front of the triggerguard, rather than above it. He also used a high-capacity cylinder, which contained 8 rounds of .357 or .38 caliber ammunition (model MTR-8), 12 rounds of .32 caliber ammunition (model MTR-12) or 14 rounds of .22LR (model MTR-14). Revolvers with a capacity of up to 20 .22 caliber rounds were proposed in this lineup, but supposedly they were never built. Very limited manufacture of these finely made and unusual weapons was made by Macchine Termo Balistiche (Mateba) company in Italy. It is believed that the MTR line of Mateba revolvers is no longer in production.
Obviously, these revolvers had limited use outside of shooting sport, as they were way too heavy and too long for everyday concealed or open carry, especially considering their relatively short barrels.
The Mateba MTR-8 revolver is a double / single action revolver of all-steel construction. The 8-shot cylinder is located in the frame ahead of the triggerguard, and swings out to the left for reloading. The cylinder release latch is located at the front of the cylinder, on the cylinder crane. For faster reloading, special flat clips were developed for these revolvers. Trigger unit design is also unusual – the hammer is fully concealed within the frame and is located in the grip, with the long firing pin passing above the trigger, towards the rear of the cylinder. The hammer can be manually cocked and de-cocked using a thumb lever, located on the frame above the left grip panel.