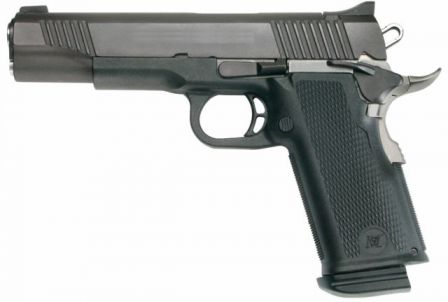 Bul M5 "Government" model pistol.
Bul M5 "Commander" model pistol, with optional "V-jet" ported barrel.
Bul M5 "Ultra-X" model pistol.
Image: Bul Ltd
Bul M5 "Ultimate Racer" model pistol for sport shooting.
Image: Bul Ltd
Characteristics
M5 Government
M5 Commander
M5 Carry / Ultra-X
Type
Single Action semi-automatic
Caliber(s)
9x19mm Para, 9x21mm IMI, .38Super, .40SW, .45ACP
Weight unloaded
864 g
858 g
730 g
Length
220 mm
200 mm
175 mm
Barrel length
128 mm
107 mm
80 mm
Magazine capacity
18 (9mm/.38), 17 (.40) or 13 (.45) rounds
12 (9mm/.38) or 10 (.45) rounds
The M5 pistol was developed in 1991-92 timeframe by a private Israeli company called Bul Ltd. Manufacturing of this gun commenced in 1994 and ever since it became quite popular as sporting (IPSC and IDPA), self-defense and service weapon, used by numerous police and special military forces around the world, to include Latin America, Asia and Europe. Produced in a wide spectrum of modifications, Bul M5 pistols combine time-proven design and ergonomics of legendary US M1911A1 pistol with most modern materials and production techniques.
Bul M5 is short recoil operated, locked breech pistol that uses Browning-type tilting barrel locking with single swinging link that connects breech of the barrel with the frame. Wide-body frame is produced from impact-resistant polymer and can accommodate any caliber available in M5 product line without any changes (obviously, caliber change requires swapping barrels, magazines, springs and possibly slides). The single-action trigger system is same as in M1911A1 pistol, providing high accuracy potential and efficient safety measures, combining manual frame-mounted safety and automated grip safety. Pistols utilize double-stack high capacity magazines. Bul M5 pistols are produced with two frame sizes – standard and carry / Ultra-X. Additional configurations are permitted by installation of either a standard lenght (5" / 128mm) barrel or "Commander"-style shorter barrel (4,25" / 107mm) on standard frame; Ultra-X frame is fitted only with short (3,25"/80mm) barrel. Ultra-X frames also use shorter magazines, but also can use longer magazines from full-size models.
For sport purposes Bul manufactures a wide spectrum of specially tuned pistols which may or may not have various additions such as magazine wells, compensated barrels, red-dot sight mounts etc.
These include the Ultimate-Racer, the Modified and the IPSC models. The Ultimate Racer usually comes in 0.38 Super Cal, while the Modified and IPSC in 0.40 S&W