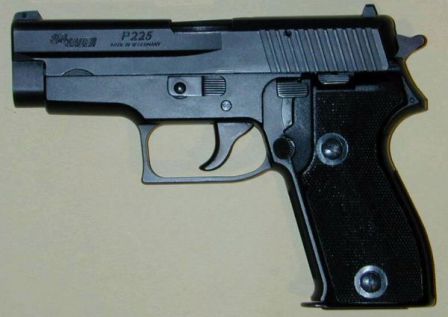 SIG-Sauer P225 pistol, left side.
SIG-Sauer P225 pistol, right side.

Re-introduced SIG-Sauer P225-A1 pistol
Characteristics
Trigger: Double-Action or Double-Action Only
| | |
| --- | --- |
| Caliber: | 9x19mm Luger |
| Length, overall: | 180 mm |
| Barrel length: | 98 mm |
| Weight unloaded : | 740 g |
| Capacity: | 8 rounds |
The SIG-Sauer P225 is a compact version of the "military" SIG-Sauer P220 pistol. It was developed for German police pistol trials of mid-seventies, and was subsequently approved for police use in FRG as P6 (Pistole 6). It is entirely similar in design and function to P220, and is widely used by numerous European police organizations, including certain Swiss and German police departments, as well as the Canadian army and even a few US police departments. The earliest versions of the P225 were equipped with a magazine release located at the bottom of the grip, but current production pistols have the magazine release button at the base of the trigger-guard. Production of original P220 pistols was completed in around 2010. However, in 2015 SIG-Sauer introduced an improved, more streamlined version of this gun, designated as SIG-Sauer P225-A1.
How to field- strip (disassemble) P225: 1) remove the magazine by pressing the magazine release button; 2) check that the chamber is empty; 3) pull the slide all the way back and lock it there with the slide stop; 4) rotate down the disassembly lever, which is located at the left side of the frame, above the trigger; 5) release the slide and carefully push it forward, and out of the frame; 6) remove the return spring assembly from below the barrel; 7) remove the barrel from the slide.
Reassemble in reverse order.