FK Brno Defense Field Tactical pistol
photo: GUNSweek.com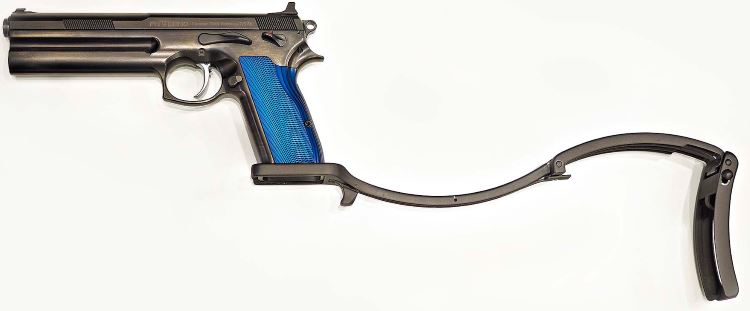 FK Brno Defense Field Tactical pistol with detachable shoulder stock
photo: GUNSweek.com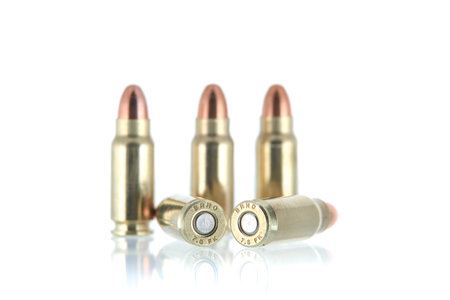 7.5x27mm FK ammunition
| | |
| --- | --- |
| Trigger type | Double action |
| Caliber | 7.5×27 FK |
| Weight, empty | 1.2 kg |
| Length | 240 mm |
| Barrel length | 150 mm |
| Capacity | 14 rounds |
The FK Field Tactical pistol was first introduced during the IWA 2015 exhibition in Nuremberg, Germany. It was designed by the small company Brno Defense from CzechRepublic(originally known as FK Brno Engineering SRO). A year later (in the spring of 2016) it was still in the prototype stage.
It is advertised as an extremely powerful and accurate "100-meter pistol" firing proprietary 7.5×27 FK ammunition. It propels a 6.5 gram projectile to muzzle velocities of about 610 meters per second, and generating about 1200 Joules of muzzle energy (about twice of the typical modern 9mm service pistol).
It seems that the only field where this large and powerful weapon can achieve any degree of commercial success is in the same niche as is already occupied by the famous Desert Eagle pistol.  Handgun hunting and shooting for fun.
pistol is way too heavy and large for a modern service sidearm, and its theoretical "100-meter" effectiveness can be achieved only in ideal range conditions.  In fact, if range to your target during combat is any longer than, say, 15-20 meters, you definitely need a LONG GUN (rifle or submachine gun, or a shotgun firing slugs).
The FK Field pistol tries to offset inherent limitations of practical handgun accuracy with the introduction of a detachable shoulder stock, but it's still a solution more suitable for plinkers or hunters than for police or military operators. The proprietary ammunition also restricts the usefulness of the gun in question.
Technical Description:
The FK Field Tactical pistol is an all-steel double action handgun broadly based on a venerable CZ-75 design. It uses a hammer-fired double action trigger, and Browning-type short recoil operation with vertically tilting barrel.
To alleviate the excessive recoil of the powerful proprietary ammunition, this pistol is equipped with a special recoil buffer, located inside the frame below the barrel. It is fed using detachable double stack, single feed magazines of 14-round capacity. A folding detachable shoulder stock is available as an accessory.