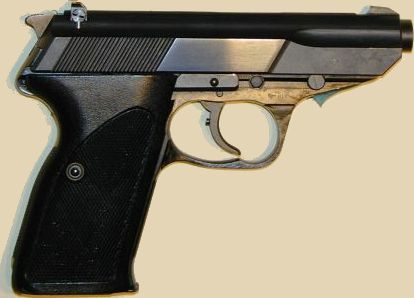 Walther P5.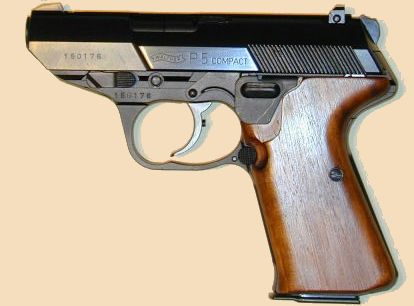 Walther P5 Compact.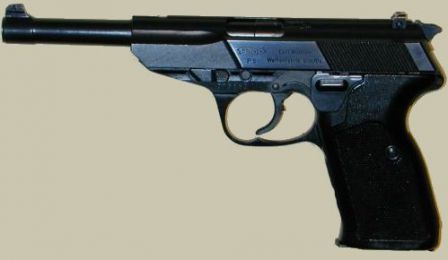 Walther P5 with long barrel.
Walther P5 disassembled into major parts.
Characteristics – Data for P5 (data for P5 Compact in parenthesises, when differed from P5)

Type: Double Action with decocker
Chamber: 9x19mm Luger/Parabellum; also 7.65mm Luger/Parabellum and 9x21mm IMI
Weight unloaded: 795 g (780 g)
Length: 180 mm (169 mm)
Barrel length: 90 mm (79 mm)
Capacity: 8 rounds
The Walther P-5 had been developed in 1979 on request by German Police for safe police sidearm. Basically, it is a further development of the famous Walther P-38 pistol, but with significantly improved safety system.
The P5 is a recoil operated, locked breech semi-automatic pistol. The barrel to slide locking/unlocking is achieved by wertically tilting underballer locking piece, after the barrel moves straight back for short time. The trigger is Double Action, with frame mounted decocker at the left side of the frame. P5 also featured addtional internal safeties, such as firing pin safety, which removes the rear part of the firing pin from under the hammer, unless trigger is pressed, and also a firing pin block which disablet the forward movement of the firing pin unless the triger is pressed. The trigger bar disconnector disables the firing unless the slide in fully closed. This allows the gun to be carried in "condition two", with round chambered and hammer lowered, safely, and ready for action in DA mode. For improved accuracy the SA firing is also available. The P5 Compact is an even more compact firearm, similar in design but with shorter barrel and slide. The sporting version of P5 had been manufactured for some time, and it had longer barrel and fixed or ajustable sights. P5 and P5 Compact both featured fixed sights.
The P5 had been adopted by German Police, as well as by Portuguese Army, Neteherland Police and other security and police forces, and also sold on European civil market. The P5 and P5 Compact are still in production by its originator, Carl Walther Sportwaffen GMBh, Uhlm, Germany.