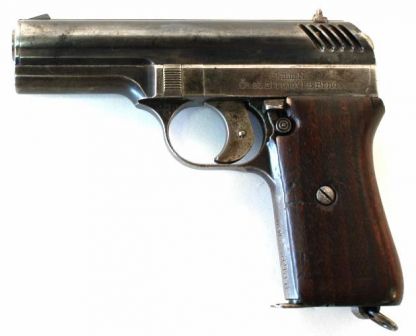 CZ Vz.22 system Nickl self-loading pistol
CZ Vz.24 self-loading pistol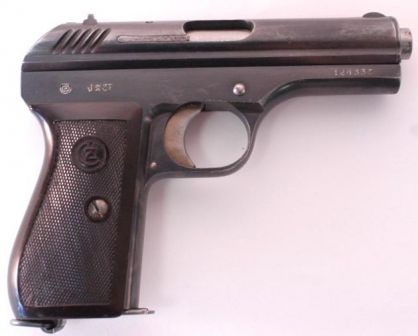 CZ Vz.24 self-loading pistol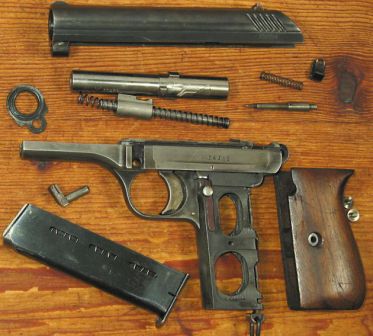 CZ Vz.24 self-loading pistol
| | | |
| --- | --- | --- |
| | CZ vz.22 | CZ vz.24 |
| Type | Single Action semiautomatic | Single Action semiautomatic |
| Caliber(s) | 9×17 Browning Short | 9×17 Browning Short |
| Weight unloaded | 640 g | 680 g |
| Length | 155 mm | 160 mm |
| Barrel length | 87 mm | 90 mm |
| Magazine capacity | 8 rounds | 8 rounds |
The Armádni pistole Vz.22, or Army pistol model 22 was produced in Czechoslovakia between 1922 and 1924, based on patents and experimental 9mm pistols developed in Germany by arms designer Nickl. His early guns were developed at famous Mauser factory, but in early 1920s Czechoslovakia bought his patents and Nickl scaled his gun slightly down from 9×19 Luger to 9×17 Browning Short (also known as 9mm Kurz or .380ACP) ammunition. After few years of production and use, the basic design was noticeably improved by Czech arms designer Frantisek Myska. In this improved form the new pistol was adopted by Czechoslovak army as Armádni pistole Vz.24, or Army pistol model 24. It was produced in significant numbers between 1925 and 1944. Deliveries were made to Czechoslovak government, to German government (during occupation of Czechoslovakia by Hitler's Germany), and also to a number of other European and South American countries.
It must be noted that both Vz.22 and Vz.24 pistols were too complicated and somehow insufficiently reliable, due to the fact that rotary barrel locking system, which was originally devised to fire 9×19 Luger ammunition, was not really necessary to fire noticeably less powerful 9×17 Browning Short ammunition, which at the time was standard for Czechoslovak army.
The Vz.22 and Vz.24 pistols both based on the same operating principles, using same short recoil operated, rotary barrel action locking. Barrel of the gun has two sets of lugs. Two lugs on its opposite sides are used to lock into the cuts made on the inner walls of the slide. The bottom lugs are used to rotate the barrel upon recoil (when following diagonal cut in the frame insert, attached to the return spring guide) and to limit the length of the recoil. The firing mechanism utilizes an exposed hammer and a single action trigger. Manual safety is located on the left side of the grip frame, behind the trigger, and consists of a lever and a button. To engage the safety (turn it On, set gun on safe) operator has to push the lever down until it locks there, blocking the trigger and the sear linkage. To disengage the safety (turn it Off, make gun ready to fire) operator has to push the small button, which is located just below the lever. Feed is from detachable box magazines, holding 8 rounds of ammunition in a single stack.