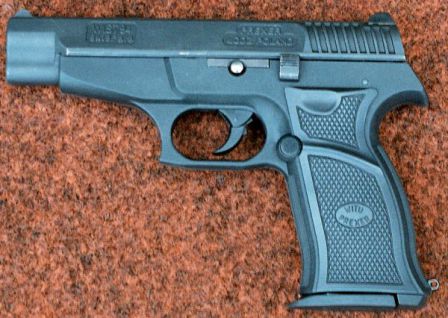 WIST-94 pistol.
WIST-94L pistol with integral laser aiming module, built into the hump in front of the trigger guard. Red button on the left grip panel turns the laser on when pressed.
Characteristics
| | |
| --- | --- |
| Type | Double Action Only semiautomatic |
| Caliber(s) | 9×19 Luger |
| Weight unloaded | 730 g |
| Length | 190 mm |
| Barrel length | 114 mm |
| Magazine capacity | 16 rounds |
Following the fall of the Iron Curtain and the disintegration of the Warsaw Pact, Poland turned to the West and eventually joined NATO. This resulted in a need for NATO-standard weapon calibers, pistols included. During 1992-94, the Military Institute of Technical Armaments (WITU – Wojskowy Instytut Techniczny Uzbrojenia) developed a new 9mm NATO pistol, known as the WIST-94. Produced at the Prexer factory in the city of Lodz, this pistol won the Polish Army trials and has been the standard sidearm of the Polish army since 1997.
The WIST-94 is short-recoil operated, locked-breech pistol using the traditional Browning-type action. The frame made from impact-resistant polymer. The barrel locks to slide using two lugs, machined on the top of the barrel; these lugs fit into cuts made on the underside of the slide. Barrel locking and unlocking is controlled by a cam-shaped cut made in the lug below the chamber area on the barrel. The trigger is of double-action-only type, striker fired. WIST-94 pistol is fitted with automatic trigger safety; no manual safety is provided. The WIST-94L differs from the standard version with the addition of the LAM (laser aiming module) that is built into the frame at the front of the trigger guard.