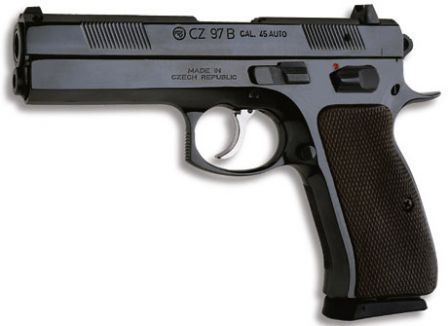 CZ97B pistol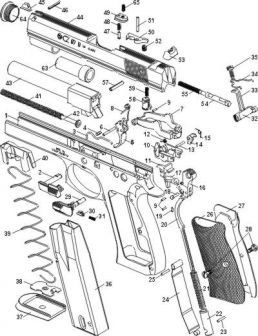 CZ97B parts diagram
Type: Double Action
Chamber: .45ACP
Weight with empty magazine: 1150 g
Length: 212 mm
Barrel length: 123 mm
Capacity: 10 rounds
The CZ-97B is a further development of the famous CZ-75 pistol. CZ-97B had been developed by Ceska Zbrojovka – Uhersky Brod (CZ-UB) arms factory late in the 1990s especially for American market, where .45ACP is very popular. CZ-97B is mechanically identical to the CZ-75B, but has enlarged and slightly reshaped frame to accomodate thicker magazine and bigger cartridge.
CZ-97B is a recoil operated, locked breech pistol, with Browning-style, linkless locking and internal slide rails. It is double action, hammer fired pistol with frame mounted manual safety, automatic firing pin safety and hammer half-cock safety. It also featured loaded chamber indicator. Both frame and slide are made from steel.
CZ-97B is a high quality, accurate and reliable pistol, suitable for self-defence, police duty or practical sport shooting.