SIG-Sauer P228 pistol, left side.
SIG-Sauer P228 pistol, right side.
SIG-Sauer P229 pistol, left side.
SIG-Sauer P229 pistol, right side.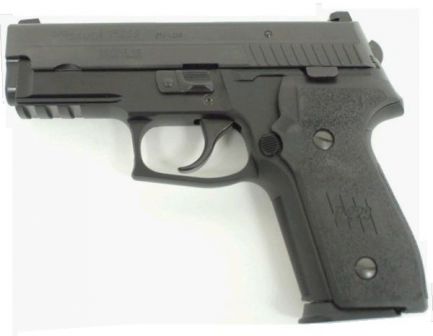 SIG-Sauer P229 pistol with accessory rail and DAO trigger (no decocking lever).
Characteristics
P228
P229
Type

Double-Action or Double-Action Only semiautomatic

Caliber:
9x19mm Luger
9x19mm Luger, .357 SIG, .40 SW
Length, overall:
180 mm
180 mm
Barrel length:
99 mm
99 mm
Weight, w empty magazine:
825 g
905 g
Capacity:
13 rounds
13 (9mm) or 12 rounds
The SIG-Sauer P228 pistol was developed from the larger framed SIG-Sauer P226 pistol in 1989. This happened in the same way that the earlier P225 pistol had grown from the P220 – basically some length was chopped from the barrel and slide, as well as from the grip.
The overall shape of the P228 was made slightly more rounded and so more suited for concealed carry. In 1991 it was adopted by the US Armed forces as the M11 pistol, and is still issued to Military Police and some other units. The P228 is also a highly popular police and civilian sidearm and widely issued to law enforcement forces in Europe and the USA.
The P229, was developed especially for the US market and is assembled in the USA using both German and US-made parts. It's identical to the P228 except for a heavier slide. The P229 slide is made by machining a bar of steel as opposed to stamping and forming from sheet steel. The heavier slide on the P229 is necessary because of the comparatively more powerful calibers used in this pistol.
P229 (and incidentally, P226) pistols can be adapted to any of three calibers (9mm, .357 and .40SW) by switching the barrel and return spring. P228 pistols are 9mm only and cannot be converted to other calibers.
Like the larger P226, the P228 and P229 pistols are available in aluminium frame/steel slide or stainless steel frame and slide versions, with standard DA or DAO triggers.
How to field- strip (disassemble) P228 and P229:
Remove the magazine by pressing the magazine release button.
Check that the chamber is empty.
Pull the slide all the way back and lock it there with the slide stop.
Rotate down the disassembly lever, which is located at the left side of the frame, above the trigger.
Release the slide and carefully push it forward, and out of the frame.
Remove the return spring assembly from below the barrel.
Remove the barrel from the slide.
Reassemble in reverse order.