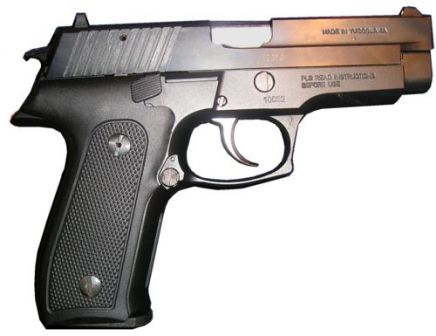 CZ-999 pistol, right side view
CZ-999 pistol, left side view
CZ-999 pistol, top view on the slide, with trigger mode switch in intermediate position. Note "R" (revolver mode) and "P" (Pistol mode) markings.
Type: Double Action
Calibers: 9x19mm Luger/Parabellum
Weight: 828 g empty; 1034 g loaded with 15 rounds of ammunition
Length: 198 mm
Barrel length: 108 mm
Capacity: 15 rounds
The CZ-999 pistol, made by Zastava Arms of Serbia and Montenegro (former Crvena Zastava arms factory, Yugoslavia), is a further development of the CZ-99 pistol by the same manufacturer. Being externally and internally quite similar to its predecessor, the CZ-999 nevertheless has some interesting features. First, it has a selectable mode trigger system, with two modes of fire, Pistol and Revolver. In Pistol mode, first shot can be made either in Single action (hammer is cocked manually before shot) or in Double action (hammer is lowered, and then cocked via the long pull of the trigger). All subsequent shots are made in Single action mode, unless hammer is lowered manually by the decocker lever. In Revolver mode, hammer still can be cocked manually, but it is lowered automatically after each shot, so each subsequent shot is made in Double Action mode, unless hammer is cocked manually. Another interesting feature is the "ammunition supply is low" indicator. This indicator is made in the form of the pin, which protrudes from the grip into shooter's palm when only three or less rounds are left in the magazine. The grip shape also is slightly improved when compared to CZ-99.
The CZ-999 is a short recoil operated, locked breech pistol. Barrel is locked to the slide by single large lug, which engages the ejection port. The Browning-type cam system is used to lock and unlock the barrel from the slide. Frame is made from aluminum alloy, slide is stamped from sheet steel, with separate steel breech block insert, fixed by the cross pin. Double action trigger system, with external hammer, has an automatic firing pin safety, and ambidextrous decocker levers, on both sides of the grip frame. The decocker levers also operate the slide stop, reducing the number of manual controls. Pistol is also equipped with loaded chamber indicator. The trigger mode selector switch is located at the top left side of the slide, and marked with letters "P" (Pistol mode) and "R" (Revolver mode). Standard sights are of fixed variety, with white dot inserts, and both sights are dovetailed into the slide.