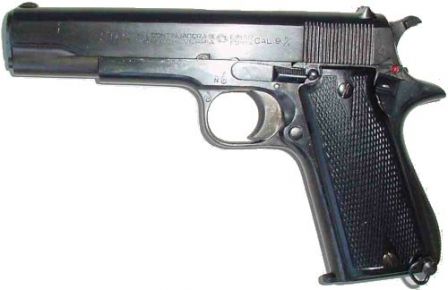 Star model B (models A, A Super and B Super looks exactly the same).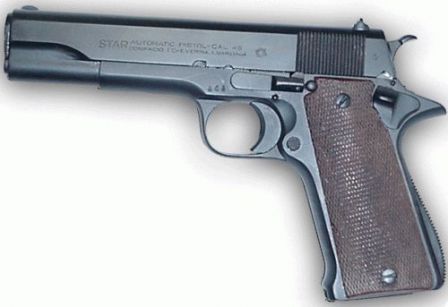 Star model P.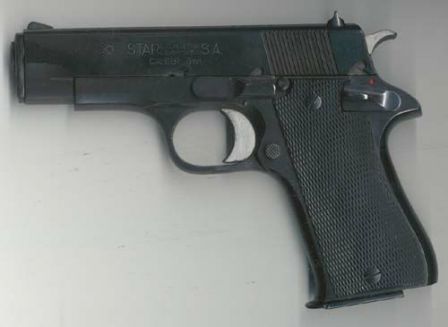 Star model BM (compact).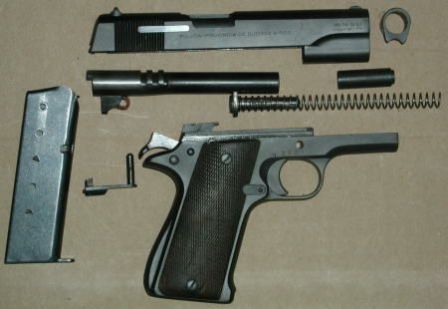 Star model P disasembled into main parts.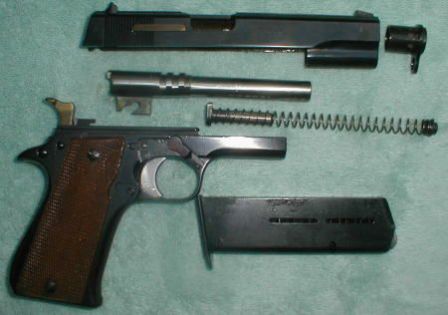 Star model B Super disasembled into main parts.
Characteristics – Data for Star mod. B Super (others in parentehesises)

Type: Single Action
Chamber: 9x23mm Largo (mod. A and A Super); 9x19mm Luger/Parabellum (models B, BM and B Super) or .45ACP (mod. P)
Weight unloaded: 1085 g
Length: 215 mm (193 mm for mod. BM)
Barrel length: 122 mm (102 mm for mod. BM)
Capacity: 9 rounds (7 rounds for mod. P)
The whole family of the "Star" pistol was (and stil is) manufactured by the Spain-based company Bonifacio Echeverria, SA. Back in the 1920s the company began to develop semi-automatic pistols, based on Browning-designed Colt M1911 design. These pistols were more or less similar to the original M1911, but usually chambered for 9x19mm Luger or 9x23mm Largo (Bergmann-Bayard) rounds.
The Star mod. A was chambered for 9mm Largo ammunition and mostly used in the Spain. The mod. B was chambered for 9x19mm Luger and had been widely exported into many countries, including Hitlers' Germany, and had been used during World War 2. The Star model P had been chambered for .45ACP cartridge and mostly intended for American market. The model BM was a compact version of the mod. B with shorter barrel and slide.
The Model B Super replaced the Mod. B in the production and in the Spain Army arsenals, and had been in production in 1946 – 1965, and had been in use by Spanish military until early 1990s, when new Star M30 had been adopted as a new service sidearm.
The Star pistols, mod. A, B and P were similar in design and differed mostly in caliber. All these pistols were recoil operated, locked breech, single action pistols that used Browning-deigned, linked barrel locking principle. The models A Super and B Super differed from mod. A and B, respectively, only in that the Super model utilised linkless locking scheme, similar to that used in Browning High Power pistols.
Being very similar in appearance to the Colt m1911A1 pistols, the Star pistols had some differences.
First, these pistols had no automated grip safety, and no detachable backstrap/mainspring housing
Second, Star pistols had simplified trigger/sear design with single trigger link, and pivoting trigger
Third, external safety swiths locked the hammer, not the sear
Fourth, Star pistols featured exetrnal extractors
Fifth, as noted above, Star A Super and B Super also had different barrel locking/unlocking
In general, all these pistols were of high quality, and offered good performance