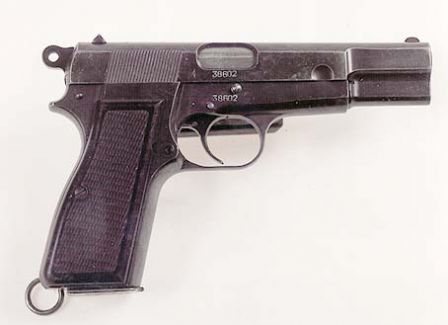 Browning High Power made by FN (model 1935).
Browning High Power made by Inglis of Canada in 1944 (variation with fixed sights).

Browning High Power, also made by Inglis, but with tangent ajustable rear sights and attached holster/shoulder stock.
Browning High Power Mk. III – modern military/law enforcement variation.
Browning High Power – modern commercial version with ajustable sights and ambidextrous safety.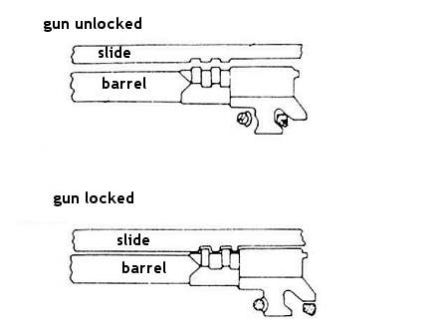 Browning High Power barrel to slide interlocking schematic.
Characteristics
Type: Single Action
Chambering: 9mm Parabellum (also 7.65mm Parabellum and .40S&W in commercial/civilian models)
Length overall: 200 mm
Barrel length: 118 mm
Weight: 885 g
Magazine: 13 rounds (10 rounds in .40SW)
Initially, the 'High Power Pistol' was designed by John M. Browning in 1925 and patented in the USA in 1927. This happened soon after Browning's death. The design was acquired by the Belgian state-owned company FN Herstal, and improved by FN designer Dieudonne Saive. The resulting pistol was shelved until 1935, when the Belgian Army was ready to adopt a new sidearm. The HP was offered for trials and won, and was then adopted as the 'Model 1935 Pistol'.
Soon after that it was adopted by the Belgian police and by many foreign countries, including those in the British Commonwealth (UK, Canada, Australia etc.). The High Power is the only sidearm that served with both sides during WW2. Germany used many HP's manufactured in occupied Belgium, while the Allies used HP's manufactured mostly in Canada by the Inglis company.
The HP continues its service well into the 21st century with the Belgian Army and police, the British Army and many other military and Law Enforcement agencies. It is in fact the second longest living service pistol after the other famous Browning design, the Colt 1911.
Technical Description:
The High Power pistol, also known as Browning HP 35, GP 35 or Model 1935, is a recoil operated, locked breech pistol. It uses linkless barrel to slide locking (see picture above), as invented by Browning. The trigger is single action, with an external hammer. Original HP's featured a frame mounted safety at the left side of the frame, that locks both the sear and the slide. Modern versions, since the Mark II, also feature ambidextrous safety levers, that are more comfortable to operate.
Original HP's were available with two sight versions – with either standard fixed sights, or rear tangent sights ajustable for distance from 50 to 500 meters. Some pre- and WW2-era guns also featured backstraps with cuts to accomodate removable shoulder stocks/holsters. Grip panels were made of wood, and the pistols were available with or without lanyard rings. The HP was the first military pistol to have high capacity, staggered column magazine for 13 rounds plus one loaded in the chamber.
Newer Military/LE versions, such as the Mk.II and recent Mk.III (also marketed under the name of HP-SA with added firing pin safety), featured more modern fixed combat sights and polymer grip panels. Commercial models may feature different sight options and finishes. The latest addition to the High Power family is a variation chambered for the .40S&W cartridge. It has a redesigned and strengthened slide to accomodate the more powerful cartridge, and a magazine capacity of 10 rounds.
By the 1980's or so FN had also developed a version of the HP with a double action trigger, that was named HP-DA. It is still marketed by FN, but didn't catch the market as well as its predecessor did.
Copies and clones of the HP are still manufactured around the world, such as the Hungarian FEG 9, Bulgarian Arcus etc.