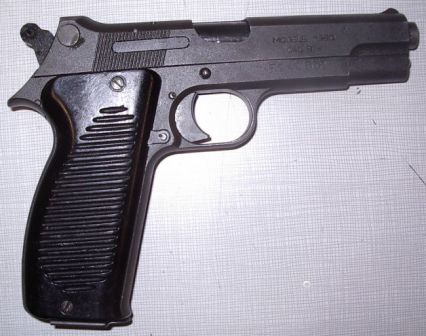 Mle.1950 pistol, right side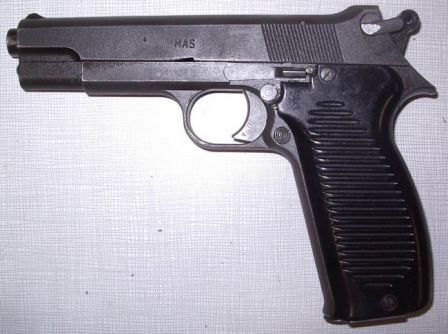 Mle.1950 pistol, left side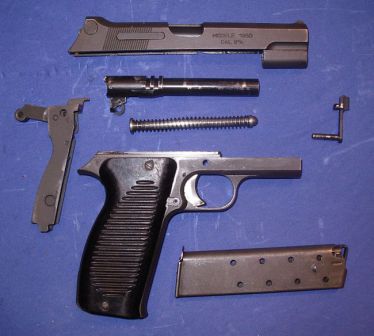 Mle.1950 pistol, disassembled
Type: Single Action
Chamber: 9x19mm Luger/Parabellum
Weight unloaded: 860 g
Length: 192 mm
Barrel length: 112 mm
Capacity: 9 rounds
At the end of World War Two, the French army had a mixed stock of pistols. The Police were armed with an even wider array of various pocket pistols made by French companies, as well as some foreign pistols, mostly imported from Belgium and made by FN.
Recognizing the need for a more modern and powerful military pistol (which would fire NATO-standard 9×19 ammunition also suitable for sub-machine guns), in late 1946 the French army issued a requirement for a new 9mm military pistol. Several designs were tested and in 1950 the army adopted a design from the state-owned MAS arsenal based in St.Etienne (Manufacture d'Armes de Saint-Etienne). This pistol, known as the Mle.1950 or M1950 was broadly based on the pre-war M1935 pistol, strengthened to use the more powerful 9×19 ammunition which also was intended for MAT-49 sub-machine guns. These pistols were made by two state-owned armories, MAS and MAC (Manufacture d'Armes de Chatellerault) between 1956 and 1978. During their lifetime, many pistols were factory refurbished and returned for service. In general, the troops liked these guns for their strength and durability; accuracy was less than ideal, but still acceptable for a military pistol.
The M1950 pistol was manufactured by the MAC (Chatellerault) factory between 1956 and 1963, and by the MAS (St.Etienne) factory between 1961 and 1978.
The Model 1950 pistol (also designated as Mle.1950 or M1950) is short-recoil operated, locked-breech weapon of all-steel construction. It uses Browning-type locking with the barrel engaging the slide via two lugs made on the top of the barrel, just ahead of the chamber. Unlocking and locking is controlled by the swinging link, which connects the barrel to the frame. The trigger is single-action, with an exposed hammer and a manual safety mounted on the slide. The hammer / sear module is made as a single, easily removable unit, following the 1935-vintage Charles Petter patents. Magazines are of single stack variety, and the pistol is fitted with an automatic magazine safety; the sights are fixed. Manual safety is lever at the left side of the slide, next to the hammer. To put on safety, push the lever up; to set to "Fire", pull the lever down
How to disassemble M1950 pistol: 1) remove the magazine by pressing the magazine release button; 2) check that the chamber is empty; 3) pull the slide slightly back and hold it there; 4) while holding the slide slightly retracted, push in the slide stop pin from the right, then pull the slide stop out of the frame to the left; 5) release the slide carefully and then push it forward and out of the frame; 6) put the slide upside down, and remove the return spring with its guide; 7) remove the barrel from the slide; 8) pull the hammer unit up and out of the frame.
Reassemble in reverse order.