The OTs-38 (ОЦ-38) revolver is one of the most unusual revolvers ever made. It was developed by the TSKIB SOO (Central Bureau for Sporting and Hunting Arms, a division of the famous KBP organization, located in Tula, Russia) by request from the Russian FSB (Federal Security Service). Because of its specific nature, OTs-38 is a limited production item, and is being used by various Special Purpose law enforcement units. The OTs-38 is an integrally silenced weapon, which produces almost no sound and absolutely no flash upon firing. It is built as an alternative to the PSS silent pistol, and uses the same special, integrally silenced ammunition, known as SP-4. The OTs-38 is one of the last designs produced by the late I. Ya. Stechkin, the famous Russian gun designer.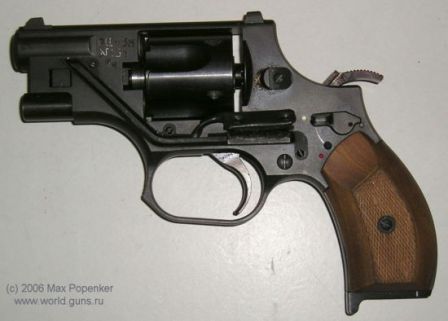 OTs-38 Revolver, left side. Note that hammer is cocked and locked by a manual safety. The button that controls the built-in laser sight is visible above the trigger guard.
OTs-38 silent revolver resembles a traditional double-action revolver but it has many uncommon features. For a start, it has a more or less common, exposed hammer with double-action trigger. The action is fitted with an ambidextrous manual safety which allows for safe "cocked & locked" carry, for a fast and accurate first shot. Next, OTs-38 revolver fires from the bottom chamber of the cylinder, as opposed to most revolvers that fire from the upper chamber. Therefore, the barrel axis of the OTs-38 is relatively low and muzzle jump is minimal. The large cylindrical housing, located above the barrel, contains an integral laser pointer / sight. The cylinder fixture is also of most unusual nature. The cylinder axis is hinged to the frame at the front, so once the cylinder release (at the left side of the frame) is pushed forward, the cylinder can be swung open to the right and forward (while on most modern revolvers cylinders are swung down and to the left). Upon the opening of the cylinder, an automatic ejector partially withdraws the clip with rounds (or empty cases) from the cylinder. This unusual cylinder mounting is essential to provide minimum play between the firing chamber in the cylinder and barrel throat, since the SP-4 bullets are of flat-nosed cylindrical shape, and thus cannot self-align with the barrel upon firing, unlike most conventional bullets that have conical or ogive nose shape. Since SP-4 ammunition is rimless, it is loaded into the OTs-38 using special flat clips that hold 5 rounds together.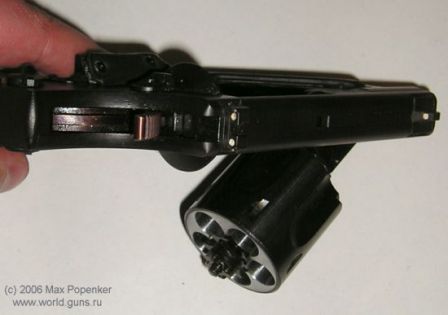 OTs-38 revolver, top view with cylinder opened for reloading. Note the most unusual way the cylinder opens.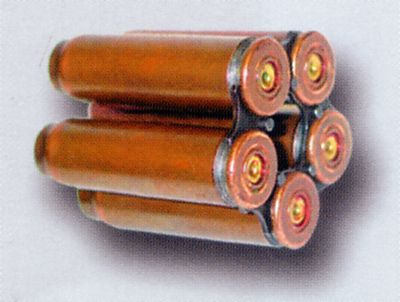 SP-4 silent ammunition loaded into 5-round OTs-38 flat clip
As said above, OTs-4 is fitted with an integral laser sight. It is also fitted with traditional fixed iron sights, that have contrast white inserts.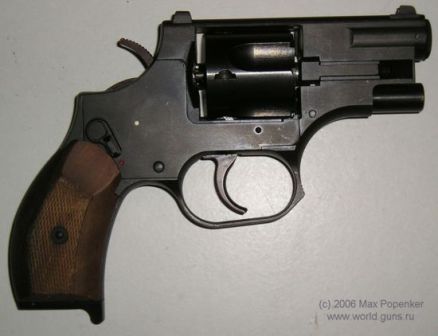 OTs-38 Revolver, right side. Hammer is lowered and safety is off.
| | |
| --- | --- |
| Type | Double Action Revolver |
| Caliber(s) |  7,62×42 SP-4 |
| Weight unloaded | 880 g (with integral laser sight) |
| Length | 191 mm |
| Barrel length | n/a |
| Magazine capacity | 5 rounds in special flat clip |