Beretta M 1951.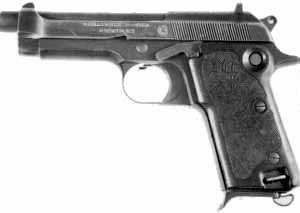 Beretta M1951R (select-fire).
Beretta M1951R (select-fire) with forward handle attached. Fire selector is seen just behind and above the trigger.
Characteristics
Type: Single Action
Chamber: 9x19mm Luger/Parabellum
Weight unloaded: 1300 g
Length: 194 mm (203 mm M951R)
Barrel length: 114 mm (125 mm M951R)
Capacity: 8 rounds (also 10 rounds for M951R)
The Beretta M 1951 pistol, also known as M951, had been developed as a military pistol early in 1950s by Pietro Beretta Armi SpA, Italy, and had been in use by Italian, Egyptian and Israeli forces. The production of the M951 started circa 1953 and continued until 1980, when M951 had been replaced by Beretta M92. The select-fire version of the M951, known as M951R, had been developed circa 1955 and been in limited production until early 1980s, when it was replaced by Beretta M93R.
Technically, M951 is a recoil operated, locked breech pistol. The short recoiling barrel is locked to the slide by vertically tilting locking piece under the barrel (Walther P38 style locking). The trigger is of single action type, the gun features cross-bolt safety switch at the rear of the grip. The magazine release button is located at the bottom of the grip. Magazine is single stack and holds 8 rounds.
The M951R is a select-fire version of M951, that featured longer barrel, heavier slide and extended magazine that holds 10 rounds (standard 8 rounds magazines also will fit). To achieve better control over the full-auto fire, additional front grip can be installed. M951R had been used by Italian Carabineri and some anti-terror units.
Egypt produced licensed copy of the M951 under the name "Helwan".