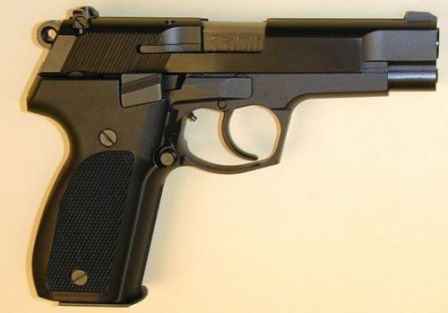 Walther P88.
Walther P88 Compact (note slide mounted safety instead of frame mounted decocker of the early P88).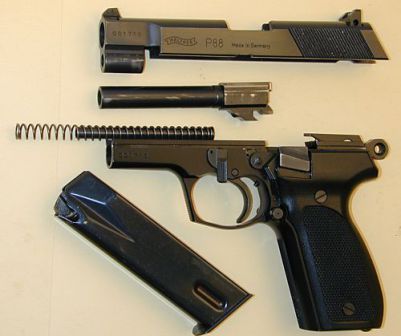 Walther P88 disassembled into major parts.
Characteristics – Data for P88 (for P88 Compact in parenthesises, when differs from P88)

Type: Double Action
Chamber: 9x19mm Luger/Parabellum
Weight unloaded: 900 g (822 g)
Length: 187 mm (181 mm)
Barrel length: 102 mm (97 mm)
Capacity: 15 rounds (14 rounds)
The P88 had been developed by Carl Walther Waffenfabrik, Germany, in 1988, as a high capacity, military and law enforcement pistol. The production of the P88 had been ceased in 1996, and it had been replaced in production by P88 Compact, which is somewhat lighter and a little bit smaller, and have some techical diffrences from original P88. The P88 Competition, with ajustable sights and other minor changes, also had been produced as a sporting firearm.
The P88 is a recoil operated, locked brech semi-automatic pistol. It differs from previous Walther pistols, such as P38/P1, P5 in fact that it uses conventional Browning style locking with barrel lowered by shaped cam trach in the barrel extension under the chamber. The locking ius achieved by single massive lug on the barrel, that locks into the ejection port of the slide. The P88 trigger system is quite similar to that of Walther P5, but P88 has ambidexrous frame mounted decocker lever. The same internal safeties, as in P5, also available (firing pin safety, out of the batery safety/disconnector). P88 featured steel construction, with fixed sights and high capacity, double stack magazines. Being a good pistol, the P88 whas too high price, so Walther discontinued it in tha favour of the slightly lighter and smaller P88 Compact, which also featured redesigned safety – the frame mounted decocker had been replaced by ambidextrous slide mounted safety.