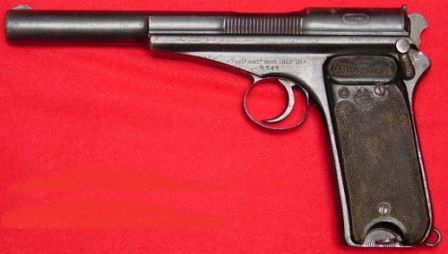 Campo-Giro pistol of 1913 – a predescessor to the Astra 400/600.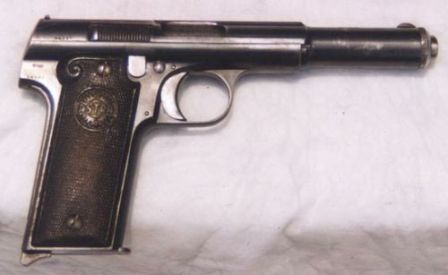 Astra mod. 400.
Astra mod. 600.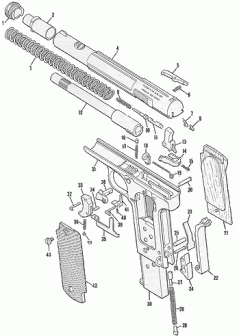 Astra mod.600 exploded view.
Characteristics – Data for mod.400 (data for mod.600 in parenthesises)

Type: Single Action
Chamber: mod.400: 9x23mm (9mm Largo or 9mm Steyr), 9x19mm Luger/Parabellum, 9x20mm Browning long (mod.600 – 9x19mm Luger/Parabellum only)
Weight loaded: 1140 g (1080 g)
Length: 225 mm (205 mm)
Barrel length: 150 mm (135 mm)
Capacity: 8 rounds
The "Astra" trademark belongs to the "Societa Unceta and compania" company (current name Astra-Unceta y Cia) , located in the Guernica, Spain. The Astra mod. 400 pistol first appeared in the early 1920s and had been adopted by the Spain Military in 1921. This pistol was also widely exported to many countries, includint the Hitlers' Germany, that purchased the mod. 400 pistols for its army. During the World War 2 German troops encountered several problems with mod.400 pistols, loaded with 9x19mm ammunition, so Germany requested the company do tevelop dedicated version of the mod.400, chambered in 9x19mm only. In 1943, Astra mod. 600 appeared, being chambered for 9mm Luger cartridge only and also having shorter barrel and slide, than mod.400. This model also had been used by Wehrmacht (German army) and exported across the world. The even more compact version of the mod.400, chambered for 9x17mm Browning short (.380ACP) or 7.65x17mm (.32ACP) cartridges, had been manufactured under the designation mod. 300. The production of the mod.400 had been completed in 1950.
Technically, the mod.400 is a blowback operated, hammer fired, single action semiautomatic pistol. It was chambered primary for 9mm Largo (9x23mm Bergmann-Bayard) cartridge but chamber and magazine dimensions allowed to load and fire other 9mm cartridges, such as 9x23mm Steyr, 9x20mm Browning long, 9x19mm Luger/Parabellum, offering almost unprecendent versatility.
The recoil spring is located around the barrel. The gun featured no manual safeties. One automatic safety is located at the rear of the grip and locks sear when gun does not gripped by the shooter properly; another, internal safety, disconets the trigger bar from the sear when gun is off the battery (slide does not closed completely). The slide stop is located at the left side of the frame.
Thanks to the long barrel and heavy weight, the gun was comfortable to fire and showed good acuuracy despite the fact that the blowback operated action is often assumed as unsuitable for full-powered ammunition such as 9mm Largo or 9mm Luger.