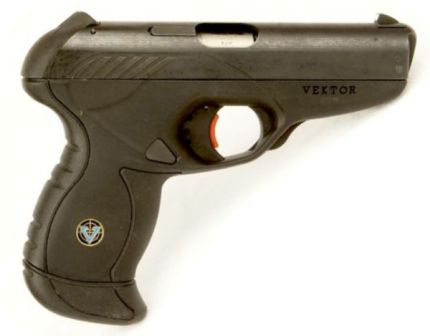 Vektor CP1, right side.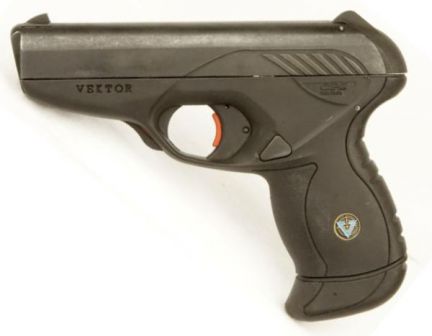 Vektor CP1, left side.
Characteristics
Type: Double Action
Chamber: 9×19 Luger/Para
Weight w. empty magazine: 720 g
Length: 177 mm
Barrel length: 100 mm
Capacity: 13 (standard magazine) or 12 (compact magazine) rounds
9mm Vektor СР1 pistol was intended as a concealed carry weapon for police and civilian public. Designed and manufactured by the Vektor, a small-arms division of the South African military DENEL Corporation, it has an unusual, streamlined design with a polymer frame and an even more unusual safety, located at the front of the trigger-guard. Introduced during the late nineties, it is still manufactured in limited numbers, mostly for export.
The CP1 uses a gas- delayed blowback action with gas cylinder located below the barrel, design probably borrowed from the German HK P7 pistol. Trigger is double action, striker fired. Manual safety is located at the front of the trigger guard. To set on Safe, the button must be pressed rearward from the front; to set on Fire, button must be pressed forward from inside the triggerguard. Pistol also fitted with automated trigger safety. Magazines are double stack; 12-round magazines are flush fit with the bottom of the grip, 13-round magazines have extended finger rests at the bottom.