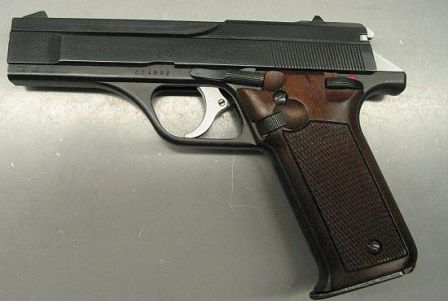 Benelli B76 pistol, left side.
Benelli B76 pistol, right side.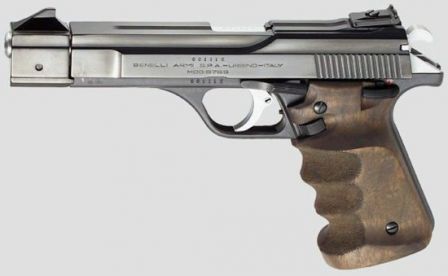 Benelli B76 Sport.

Diagram from patent US 3,893,369 that explains Benelli inertia-locked action.
Characteristics
| | |
| --- | --- |
| Type | Double Action semiautomatic |
| Caliber(s) | 9×19 Luger (B76), 7.65×21 Luger (B80), 9×18 Ultra (B82) |
| Weight unloaded | 970 g |
| Length | 205 mm |
| Barrel length | 108 mm |
| Magazine capacity | 8 rounds |
This rather interesting pistol has been developed by famous Italian arms company, Benelli Armi. Basic idea of inertia-locked semiautomatic pistol has been devised in around 1983, and US patent No. 3,893,369 for this action was received in 1975. Manufacture of new pistols commenced in 1976, hence the model name, B76. Later on, two more models were added to line-up, the B80 in 7.62x21mm Luger / Parabellum and B82 in 9×18 Police. These latter versions were intended mostly for civilian market, since firearms in "military" calibers like 9×19 Luger / Parabellum / NATO are not permitted for civilian ownership in Italy. Manufacture of B76 line of pistols continued up until 1990 or so, when this design was dropped from Benelli product line, apparently because of insufficient sales.
Benelli B76, as well as its subsequent versions, was a well made weapon with good ergonomics and excellent potential in accuracy, because of stationary barrel and soft recoil (this resulted in appearance of dedicated Sport versions, with longer barrels, target sights and match-tuned triggers). However, it was somewhat expensive to make and rather heavy for its moderate magazine capacity of "only" 8 rounds. Also, because of inertia locking, this pistol is somewhat sensitive to proper grip with the firing hand.
Benelli B76 pistol uses inertia-locked, blowback operated action with stationary barrel and separate breechblock located within a slide. When in battery, this breechblock (#3 on diagram above) engages the perpendicular cuts, made in the frame (#10), with its lugs. The slide (#2) is connected to breechblock via the swinging link (#4 on diagram). Upon the discharge, the mass (inertia force) of the slide is added to the force of the return spring, and slide through the ling pushes on to the breechblock, forcing it to stay locked with the frame. Once recoil force overcomes the inertia of the slide, its pressure on the breechblock is decreased and simple blowback effect takes the action, pushing the breechblock out of the frame recesses and then back, cycling the slide and reloading the pistol. The trigger of B76 is of more or less conventional double action type, with exposed hammer. manual safety is located on the left side of the frame, above the grip panel. Magazines are single stack, magazine release is located at the base of triggerguard. Sights, depending on model, can be either of fixed or adjustable type.