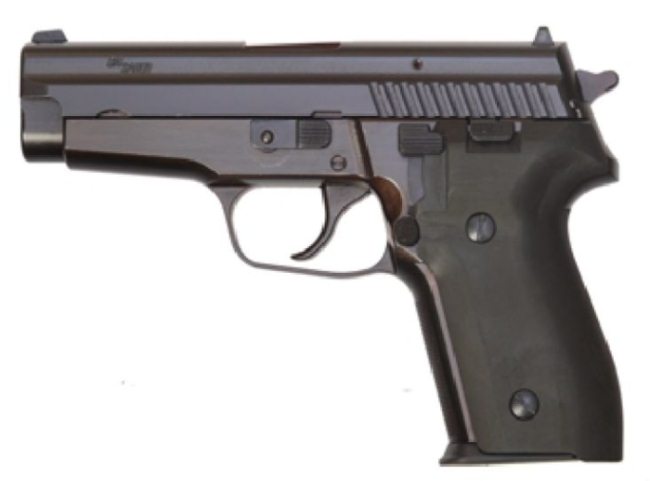 SIG-Sauer P221, an experimental .45 caliber high capacity pistol from 1993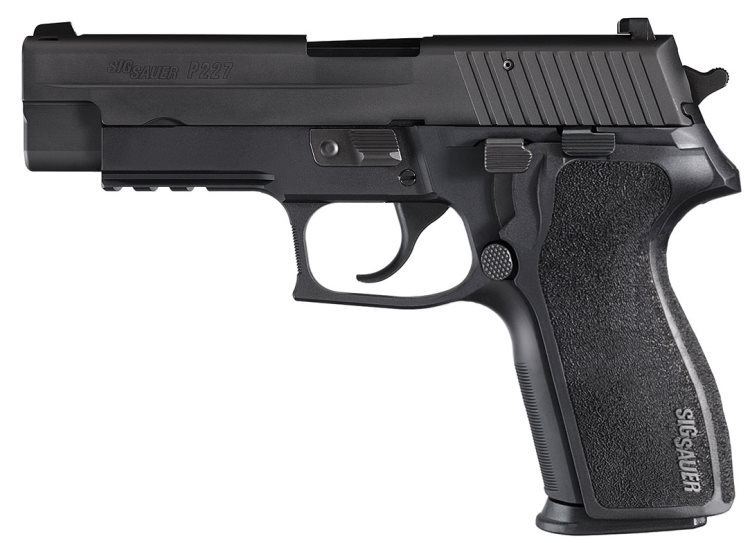 SIG-Sauer P227

SIG-Sauer P227 SAS
P227

P227 Carry / SAS

Trigger type

Double / single action

Caliber

.45ACP

Weight, empty

925 g / 32 Oz

880 g / 30.5 Oz

Length

196 mm / 7.7"

180 mm / 7.1"

Barrel length

112 mm / 4.4"

99 mm / 3.9"

Capacity

10 and 14 rounds
SIG-Sauer P227 pistol is a recent product of the US-based branch of the international SIG-Sauer corporation. It is intended primary for US market, being chambered for the ever-popular hard-hitting .45ACP cartridge. Available in two lengths, full-size and compact ("Carry" and "SAS"-Sig Anti-Snag variations) it offers increased magazine capacity with relatively thin profile, very similar to that of the 9mm SIG-Sauer P226 pistol. In fact, most holsters intended for P220 and P226 would work for P227 as well. As of late 2013, the P227 is already in service with certain US law enforcement agencies, such as Indiana State Police.
It must be noted that P227 is a second attempt of the SIG-Sauer to create a high capacity .45 caliber pistol with metal frame. The first one, provisionally known as P221, was developed circa 1993, but this project was ultimately killed by the US Assault Weapons Ban (AWB) of 1994, which limited the maximum magazine capacity of new civilian firearms to 10 rounds. Now, as the AWB is almost 10 years out of effect, the P227 most probably would sell rather well.
The SIG-Sauer P227 is a semi-automatic pistol with double / single action trigger and external hammer. It has a number of internal safeties, plus an external decocking lever. It uses modified Browning-type locking system with short recoiling barrel that tips down to unlock from the slide, using cam-shaped cut below the breech. Frame of the P227 pistol is made from aluminum alloy, slide is made from stainless steel. All parts are covered by corrosion- and wear-resistant Nitron finish. Ammunition is fed from double stack, single feed box magazines. Standard capacity is 10 rounds; extended magazines have capacity of 14 rounds. Standard and Carry versions feature integral Picatinny rail under the barrel, which allows attachment of useful accessories such as flashlight and / or laser. P227 SAS is optimized for concealed carry, has smoothed and rounded corners and lacks an accessory rail. All versions are equipped with fixed, SIGLITE sights with luminous inserts which are especially useful under low light conditions.