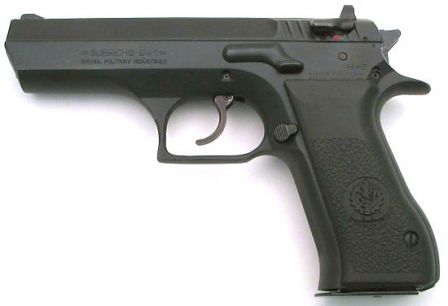 Full-size Jericho 941 pistol with slide-mounted safety/decocker.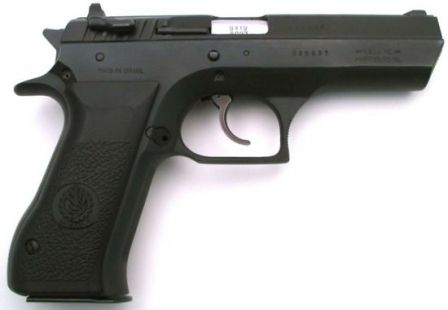 Same gun, right side.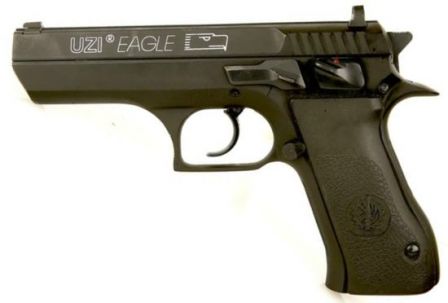 Full-size Jericho 941 pistol with frame mounted safety, marked as "Uzi Eagle".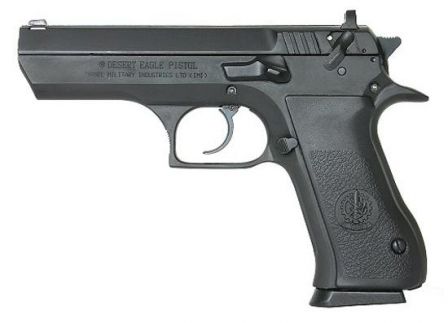 Full-size Jericho 941 pistol with slide mounted safety-decocker, marked as "Desert Eagle".
Semi-compact Jericho 941 pistol.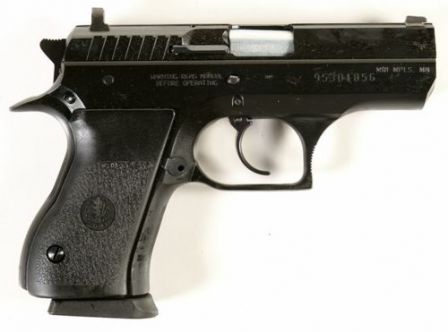 Compact Jericho 941 pistol with steel frame.
Compact Jericho 941 pistol with polymer frame.
Characteristics
Jericho 941 standard
Jericho 941 semi-compact
Jericho 941 compact
Type
Double / Single Action
Caliber
9×19 Luger / Parabellum, .40S&W, .41AE (obsolete), .45ACP
Weight, w. empty magazine
1092 g
1060 g (steel frame)
830 g (polymer frame)
961 g (steel frame)
734 g (polymer frame)
Length
210 mm
197 mm
184 mm
Barrel length
115 mm
100 mm
92 mm
Magazine capacity
15 (9mm) or 12 (.40) rounds
15 (9mm) or 12 (.40) or 10 (.45) rounds
10 rounds (9mm and .40)
During the early nineties, the state-owned Israel Military Industries (IMI) company developed a conventional combat pistol, the Jericho 941. This was actually an international effort, since the design of the pistol was based on the Italian Tanfoglio system, itself a well-made clone of the Czechoslovak Cz-75 pistol. The original model index, the '941', came from the two calibers initially available in this pistol, the ubiquitous 9mm Luger (9×19) and the new .41AE, which was developed in 1986 by the American company Action Arms. This cartridge, which was ballistically similar to more 'modern' .40 S&W, was designed to be used in 9mm pistols with minimal modifications (new barrel and return spring, and possibly new magazine), and thus had a rebated rim of the same diameter as the 9mm cartridge. Early Jericho pistols were often shipped with two sets of barrels and springs, one in 9mm and another in .41AE. The .41 was good cartridge, by no means inferior to the rival .40 S&W, but it lacked one essential feature – strong marketing support. Because of the failure to sell this caliber to the public, the .41AE has been dropped from Jericho line and replaced by more successful .40 S&W chambering, and, later on, complemented with .45ACP. Jericho pistols are widely exported from Israel, and also used by Israeli private security and police forces.
Manufacture of the Jericho pistols has been commenced with the great help (and probably certain parts) from famous Tanfoglio company of Italy; not surprisingly, design of Jericho pistols is similar to that of Tanfoglio pistols and based on famous Czechoslovak CZ-75.
One specific aspect of the Jericho pistols is that it has been imported in various countries (most notably the USA) under a variety of names, other than its original one. Its main US importer, the Magnum Research Co imported these pistols under trade marks like "Baby Eagle", "Baby Desert Eagle" and even "Desert Eagle", trying to capitalize on the commercial success of the much bigger and entirely different "Desert Eagle" pistol, also made in Israel by IMI and marketed by Magnum Research. It must be noted that unlike the original Desert Eagle, which is more of a hunting weapon, the Jericho is a true combat / self-defence weapon, comfortable to handle, carry and fire, as well as reliable and accurate.
It must be noted that recently the small arms business of IMI has been privatized, and Jericho pistols are currently made by IWI (Israeli Weapon Industries) Ltd.
Jericho 941 are locked breech, short recoil operated pistols, which are available with either a steel (all models) or polymer frame (only compact and semi-compact models). Locking is of the conventional Browning type, with cam-controlled barrel tilting and dual locking lugs located on the barrel just ahead of the chamber area. The slide rails are located inside the frame, as in all pistols patterned after the CZ-75. There are three basic configurations of pistol: standard, semi-compact (standard frame and short slide and barrel), and compact (short slide and barrel, short grip). Triggers are double-action, with an exposed hammer. Typical safety arrangements may include either a frame mounted safety (left side of frame only) which may lock the hammer cocked or not, or a slide-mounted ambidextrous safety which decocks the hammer automatically when engaged. Barrels have polygonal rifling. Sights are fixed, both front and rear sights being dovetailed to the slide. Magazines are double-stack; the capacity varies with caliber.
How to field-strip (disassemble) Jericho / Baby Eagle pistol: 1) remove the magazine by pressing the magazine release button; 2) check that the chamber is empty; 3) Put your left thumb through the trigger guard and with the other fingers grasp the top of the front part of the slide firmly. Retract the slide slightly back until the two vertical notches on the rear part of the frame and slide are aligned with each other; 4) while holding the slide in position as described above, push the slide stop pin inwards from the right side of the frame, then pull the slide stop out of the frame from the left side; 5) push the slide and barrel assembly forward and out of the frame; 6) Remove the return spring from below the barrel; 7) pull the barrel out of the slide.
Reassemble in reverse order.