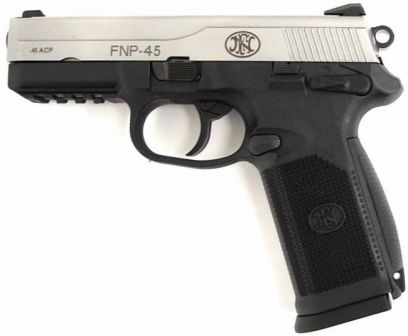 FNP 45 pistol, left side.
FNP 45 pistol, right side.
Buy FN pistols at Impact Guns online store
Characteristics
| | |
| --- | --- |
| Type | Double Action semiautomatic |
| Caliber(s) | .45ACP (11.43×25) |
| Weight unloaded | 930 g / 32.4oz |
| Length | 200 mm / 7.85" |
| Barrel length | 114 mm / 4.5" |
| Magazine capacity | 14 rounds (10 where required by law) |
FNP 45 pistol is the next step in evolution of the FNP 9 / FNP 40 pistols line. First announced in 2007, the FNP 45 is just one of the many new, modern .45 caliber pistols which recently hit the civilian and law enforcement markets in USA. The increased interest in full-size, high capacity .45ACP pistols can be in part attributed to the several unsuccessful attempts of US armed forces to re-adopt this cartridge over the 9×19 NATO in the search of better stopping power. The same reason (combat effectiveness / stopping power) causes many police organizations and civilian shooters to re-think the role of the century-old .45ACP round. FNH USA, the US-based subsidiary of the famous Belgian arms-making company FN Herstal, took this cartridge and developed this serious service-type pistol. Based on its predecessors, FNP 45 is somewhat bigger and heavier than its 9mm/.40 caliber 'older brothers', and is best suited for holster carry. It features improved ergonomics, with fully ambidextrous controls and modular grip backstrap. Front of the frame is shaped to form Picatinny rail which can accept a wide variety of accessories like laser sights or tactical lights. The modular hammer units for FNP 45 are available in two versions – with manual safety that permits "cocked and locked" carry or with decock-only function (gun shall be carried with hammer lowered over the loaded chamber).
The FNP 45 is short recoil operated, locked breech pistol. The barrel is operated using a Browning cam system, and it locks to slide with single lug engaging large ejection port. Frame is made from high impact-resistant polymer. Double Action trigger system with exposed hammer has internal firing pin safety, with decocking or safety levers located at the both sides of the frame. Firing pin safety is standard, and the magazine safety is optional. The trigger / hammer module is formed as a single unit, easily detachable from the frame for inspection, maintenance or replacement. Optional hammer units can be found in DAO variety or in standard DA version but with manual safety / decock levers instead of the basic decock-only levers. Other easily replaceable units include the barrel cradle / slide rail module and the grip backstraps. Grip backstraps are available in two variations, with straight or curved shape. Standard sights are provided with white inserts and are dovetailed into the slide.