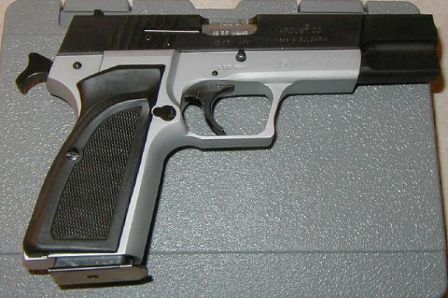 Arcus 94, right side.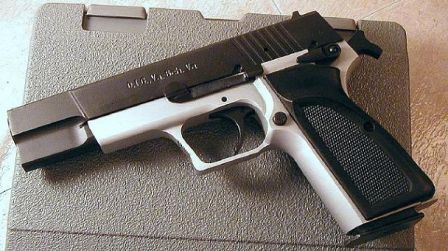 Arcus 94, left side.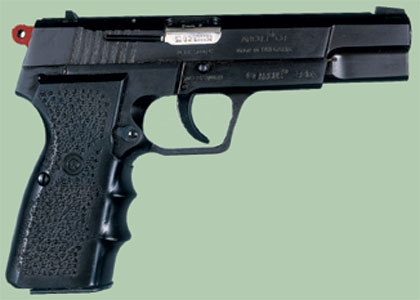 Arcus 98 DA.

Characteristics
Arcus 94
Arcus 98
Type:
Single Action
Double Action
Chamber:
9x19mm Luger / Parabellum
9x19mm Luger / Parabellum
Weight unloaded:
970 g
950 g
Length:
203 mm
203 mm
Barrel length:
118.5 mm
118.5 mm
Capacity:
13 rounds
15 rounds
The Arcus pistol was developed by the Bulgarian company Arcus in 1994. It is another FN / Browning "High Power" (GP-35) clone, very well made and with slight cosmetic improvements. Four years later, Arcus developed a derivative of the model 94, called Arcus 98 DA. This model is identical to the 94, but has a Double Action trigger instead of a Single Action, and additional automated firing pin safety. Arcus 94 is made for civilian market and is widely exported. The Arcus 98 DA was adopted by the Bulgarian Army and Police as a standard sidearm, and also sold for export.
Both Arcus 94 and 98 are recoil operated, locked breech pistols that use tipping barrel with two lugs that lock into recesses on the underside of the slide. To lock and unlock from the slide, barrel uses a cam under the chamber, that interacts with the frame. The axis of the slide stop is also used as a takedown pin, and when the slide stop is removed, slide, barrel and recoil spring can be removed from the frame.
Arcus 94 features High-Power style, single action trigger with external hammer, manual safety, mounted on the left side of the frame, magazine disconnect safety, and a slide disconnect, that does not allow gun to fire when slide is not closed completely. The frame and the slide of the Arcus pistols are made from the steel, and different finishes are available, as well as polymer or wooden grip panels. Sights ususally are of fixed type, dovetailed into the slide, with three white dots for better target aquisition.
Arcus 98 is very similar to the Arcus 94, except for trigger and magazine capacity. Arcus 98DA has a double action trigger with external hammer. It features same frame mounted safety, with optional ambidextrous safety levers, and additional firing pin safety. Magazine capacity of Arcus 98 is increased by 2 rounds and is 15 rounds plus one in the chamber.
All Arcus pistols are reported as a comfortable to use, very reliable and durable. They may look a little bit conservative in the ages of the light alloys,polymers and other hi-tech gizmos, but reasonable amount of conservatism will never hurt, in my opinion.
special thanks to James Richardson for pictures and other input