FEMARU 37M pistol.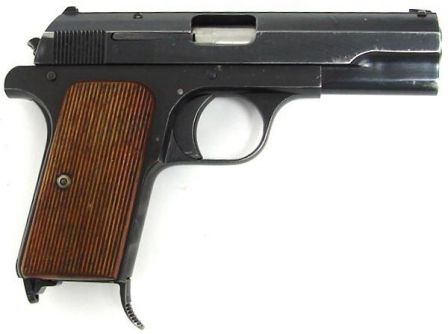 FEMARU 37M pistol.
FEMARU P37 / P37(u) pistol, as made for and used by German armed forces during WW2. Note that it has added manual safety lever and chambered for 7.65mm (.32ACP) ammunition.
Characteristics
| | |
| --- | --- |
| Type | Single Action semiautomatic |
| Caliber(s) | 7.65×17 Browning / .32 ACP and 9×17 Browning Short / .380 ACP |
| Weight unloaded | 770 g |
| Length | 182 mm |
| Barrel length | 110 mm |
| Magazine capacity | 7 rounds |
The FEMARU 37M pistol, wich is also known as Frommer 37M, was developed by 1937 at Hungarian arms factory FEMARU to replace Frommer-designed 29M pistol, made at the same facility. This pistol was of simpler design, when compared to its predecessor, and susequently it was less expensive to make. Hungarian army adopted this pistol in 1937 in 9mm Browning Short caliber (which is also known in USA as .380 ACP). After the start of WW2, Germany placed a contract for the 37M pistols, chambered for the 7.65×17 Browning (.32 ACP) cartridge, which was standard for German armed forces along with more powerful 9×19 Luger / Parabellum ammo. German authorities also requested some design changes, namely the addition of the manual safety. German contract pistols were marked with "P Mod 37" rollmark and appropriate calibermarking "Kal 7,65" on the left side of the slide. The official designation of the these pistols within German military was P.37(u). Production of these pistols lasted between 1937 and 1944, with total production estimated at about 175 thousands.
The FEMARU Model 1937 / Frommer 37M / P.37(u) pistol is a simple blowback operated weapon.The return spring is located below the barrel and the barrel is attached to the frame with four lugs below the chamber area, and can be easily dismounted when gun is disassembled. When gun is fired, barrel remain stationary.
The trigger is of single action type, with exposed hammer. No manual safety is available on the 37M, but the pistol is fitted with automatic grip safety at the rear of the grip. German contract P.37(u) pistols were fitted with additional manual safety on the left side of the frame, above the grip panel.
Feed is from detachable box magazines, with magazine release catch located at the base of the grip, behind the magazine well. Each magazine is fitted with characteristic forward-facing finger rest at the bottom. External slide stop lever is provided at the left side of the frame.