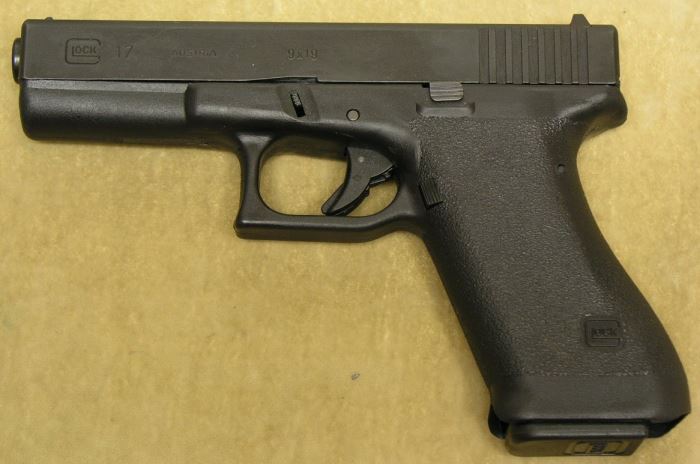 Glock 17 pistol, 1st generation

Glock 17 pistol, 2nd generation

Glock 17 pistol, 3rd generation

Glock 17 pistol, 4th generation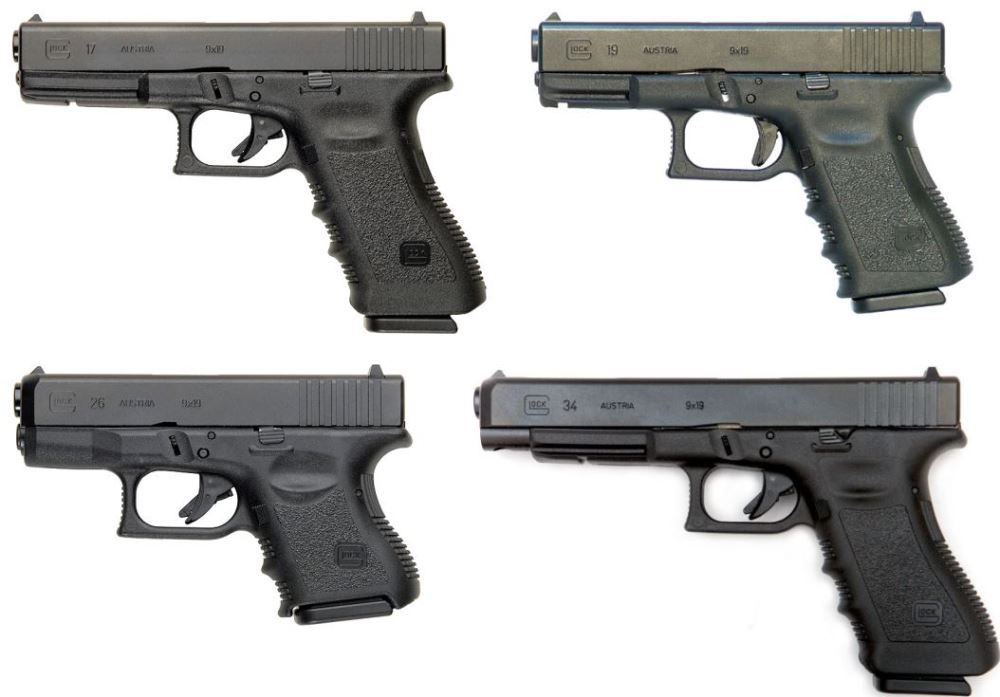 family of 9x19mm Glock pistols. .40SW and .357SIG pistols are of same dimensions

family of .45ACP Glock pistols. 10mm Auto pistols are of same dimensions

family of 9x17mm (.380ACP) Glock pistols.

X-ray photo of the typical Glock pistol. Note that most of its construction is made of highly contrast steel, easily detectable by X-ray, magnetic and other sensors
9mm Glock pistols
 17

 19

 26

 34

Trigger type

Safe action

Caliber

9×19

Weight, empty

625 g

595 g

560 g

650 g

Length

204 mm

187 mm

165 mm

224 mm

Barrel length

114 mm

102 mm

88 mm

135 mm

Capacity

17 rounds

15 rounds

10 rounds

17 rounds
9x17mm / .380ACP Glock pistols
25

 28

42

Trigger type

Safe action

Caliber

9x17mm / .380ACP

Weight, empty

570 g

529 g

390 g

Length

187 mm

165 mm

151 mm

Barrel length

102 mm

88 mm

83 mm

Capacity

15 rounds

10 rounds

6 rounds
.357SIG Glock pistols
31

32

33

Trigger type

Safe action

Caliber

.357SIG (9x22mm)

Weight, empty

660 g

610 g

560 g

Length

204mm

187mm

165mm

Barrel length

114 mm

102 mm

88 mm

Capacity

15 rounds

13 rounds

9 rounds
.40S&W Glock pistols
22

 23

 27

35

Trigger type

Safe action

Caliber

.40S&W (10x22mm)

Weight, empty

650 g

600 g

560 g

695 g

Length

204mm

187mm

165mm

224mm

Barrel length

114 mm

102 mm

88 mm

135 mm

Capacity

15 rounds

13rounds

9 rounds

15 rounds
10mm Auto Glock pistols
20

29

Trigger type

Safe action

Caliber

10mm Auto (10×25)

Weight, empty

785 g

700 g

Length

209mm

177mm

Barrel length

117 mm

96 mm

Capacity

15rounds

10rounds
.45GAP Glock pistols
 37

38

 39

Trigger type

Safe action

Caliber

.45GAP (11.43×19)

Weight, empty

735 g

685 g

548 g

Length

204mm

187mm

165mm

Barrel length

114 mm

102 mm

88 mm

Capacity

10 rounds

8 rounds

6 rounds
.45ACP Glock pistols
21

30

36

 41

Trigger type

Safe action

Caliber

.45ACP

Weight, empty

745 g

680 g

570 g

765 g

Length

209mm

177mm

177mm

226mm

Barrel length

117 mm

96 mm

96 mm

135 mm

Capacity

13 rounds

10 rounds

6 rounds

13 rounds
The Glock Pistol series came about because of trials announced in 1980 by the Austrian army. These were held with the intention of obtaining a new military handgun to replace the obsolescent Walther P38 pistols.
Participants in these trials included such designs as the Steyr GB, Heckler & Koch P7 M13, SIG-Sauer P220 and P225, Beretta 92S, and the previously unheard of Glock model 17.
In 1982 the brand new Glock 17 was adopted by the Austrian Army officially as the Pistole 80 (Р80). From 1986 onwards Glock pistols gradually replaced the older P38 in military service. In the following years, thanks to their unorthodox design and aggressive marketing, these pistols became one of the most popular combat handguns, being adopted by numerous military and law enforcement forces worldwide.
The creation of the Glock 17 pistol is a very interesting and successful attempt to develop a firearm using the 'clean sheet' concept. Usually a new design was adapted to meet new requirements. However, Gaston Glock, owner of a relatively small company Glock GmbH, called for the best designers and experts and asked them to create an ideal pistol from scratch. It was clear that the Austrian Army wanted a defensive pistol – simple, reliable, lightweight and inexpensive. The Glock team accordingly created what would be called the most utilitarian pistol of recent decades.
Its relatively light weight was achieved by using a polymer frame – a solution probably borrowed from the Austrian Stg.77 (Steyr AUG) assault rifle, adopted in 1978. Simplicity of operation combined with a minimum number of parts were achieved by using the patented "safe action" trigger system, which has no manual safeties. This system has an inbuilt safety as part of the trigger itself, engaged when the trigger is pulled.
Models:
After initial success with the basic Glock 17 pistol and its smaller counterpart, the Glock 19 (which appeared in 1988), the company developed and brought to market a large number of models, based on the same basic design and available in every major caliber from 9×17 Browning up to 10mm Auto and .45ACP and in a variety of configurations, from subcompact concealed carry models to full-size service models and long-slide sport pistols.
There are five generations of production Glock pistols.
First generation lasted between 1986 and 1990, and included only the Glock 17 and 19 pistols chambered for 9×19 Luger / Parabellum.
Second generation pistols, which also included pistols chambered for .357SIG, .40 S&W, 10mm Auto and .45 ACP, had slightly modified frames with textured grips.
Third generation entered production in 1998. At this time the pistols received integral accessory rails below the barrel, finger-grooved grips and improved extractors which also serve as loaded chamber indicators.
Fourth generation, introduced in 2010, offered grips with replacement backstraps, enlarged magazine release buttons which can be installed on either side of the gun, and some minor internal improvements.
Fifth generation, released in August 2017. Changes include a new finish (nDLC), ambidextrous slide-stop lever, flared magazine well, 'rough textured finish', removal of the finger grooves on the grip and inclusion of the 'Glock Marksman Barrel', among other minor details.
It must be noted that while many experts describe these pistols as having a "revolutionary design", in fact it was the result of a carefully considered evolution. The design evolved incorporating previously-known solutions into one extremely practical, rugged package. For example, polymer pistol frames had been known for ten years before the introduction of the Glock 17 (i.e. Heckler & Koch VP70 pistol). Automated safeties built into the trigger were known from the 1930's (Sauer Model 30 pistol), and pre-cocked firing pins from the first decade of the 20th Century (Roth-Steyr M1907).
While extreme ruggedness, affordable price and ease of use made Glock pistols top sellers for three decades, they also had a few teething issues. The first was ergonomics –  as they were originally designed for Army use, and intended to be a "one size fits all" proposition. In fact, the square-shaped grip of the typical full-sized Glock is less than ideal in shape, at least for many shooters – the author included. This issue was corrected recently with the introduction of the 4th Generation.
The second issue is the famed "safe-action" trigger. There have been quite a few accidental and negligent discharges with this range of pistols. That's because of the lack of any manual safeties, in combination with a relatively low trigger pull weight. Upgrades such as the "New York trigger pack", which included heavier springs, did help a little. However in this configuration there were few advantages over other pistols that had DAO triggers. These were as safe to fire as upgraded Glocks, but allowed a rapid second strike in the case of a misfire. Of course, the essential reason for these accidents was insufficient training of the users involved, but it is customary for the tools to take the blame for operator errors.
Technical Description:
Glock pistols are short recoil operated, locked breech weapons, except for two models (Glock 25 and 28), which are chambered for low-power 9×17 Browning (.380ACP) ammunition, and use blowback action.
The barrel is locked into the slide by a single large lug, which engages the ejection window in the top of the slide. Unlocking upon recoil is achieved by a single cam-shaped lug, which interacts with the steel insert, molded into the polymer frame. The same insert also holds the slide rails, which cannot be replaced in the frame in the case of wear or damage.
The patented 'safe-action' trigger system has a firing pin, with the mainspring being preloaded during the reloading cycle. The full cocking of the striker is achieved only by the pull of the trigger. There are no manual safeties on Glock pistols. Automated safeties include the trigger safety, which blocks the trigger if it is not pulled properly, the firing pin block, and the out-of-battery disconnector, which does not permit fire if the barrel is not fully locked to the slide.
Double-stack, single feed magazines are made from polymer, the standard magazine capacity for the Glock 17 being 17 9mm rounds, with extended magazines available in 19 and 33 round capacity. Compact and most sub-compact models are normally supplied with shorter magazines, but can accept longer magazines of the same caliber (i.e. the 19 would accept magazines from the 17 in 9mm).
Some sub-compact "Slim line" versions, such as the Model 36 or Model 42, use single stack magazines which are not interchangeable with other models. The standard sights are fixed, with the rear sight dovetailed to the frame. Late generation pistols also feature integral accessory rails on the frame, below the barrel.
Glock 18 pistols, which are one of the very few full-auto capable pistols currently made in the world, have slightly different dimensions of slide to frame rails. The Glock 18 slide with its fire selector mechanism cannot be installed on any other 9mm frame. However, several companies now offer add-on modules, which can convert any Glock pistol to selective fire. Such modules are usually installed at the rear of the slide, replacing the rear slide plate, while original Glock 18 pistols have a fire mode selector mounted on the left side of the slide.
Glock 18's are available only to governmental agencies and not to the general public. Often, when a Glock 18 is claimed, it is actually a '17 modified for full auto. Click here for a demonstration video of the Glock 18.