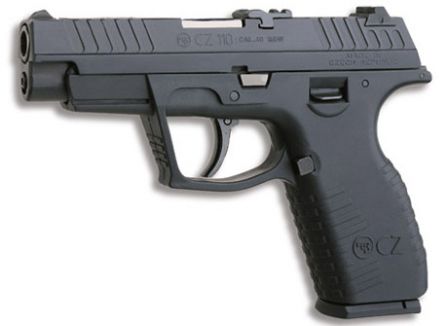 Type: Double Action
Chamber: 9 mm Luger; 9x21mm IMI; .40S&W
Weight unloaded: 670 g
Length: 180 mm
Barrel length: 98 mm
Capacity: 13 (9mm) or 10 (.40) rounds
The CZ 110 is a further development of the CZ 100 pistol, differing from it mostly in trigger design – while CZ100 is a DAO design, the CZ 110 is a conventional DA pistol, capable of firing either in double or single action modes.
CZ 110 is a recoil operated, locked breech pistol that featured short recoiling barrel that locks to the slide by single massive lug, that engaged the ejection port when locked. To unlock, barrel is cammed down by the interaction of the shaped cam on the barrel and the frame parts. The frame is made from strong black polymer, the slide is made from steel. The CZ 110 is a striker-fired pistol. Firing pin (striker) can be fully cocked by the slide retraction cycle and then, if immediate fire is not required, can be brought down to res by the decocking lever. The only other safeties are an automated firing pin block and loading chamber indicator. The CZ 110 obviously designed to be cariied with loaded chamber and firing pin at the rest, and to be fired Double Action. But< if one is required to fire first shot more acurately (in single action mode) it is possible to cock the striker by partial slide retraction (of about 10 mm or 3/8 inch).
The rear sight is dovetailed into the slide, and gun featured an "single hand charging device" on the top of the slide, behind the ejection port, which is used to be engaged anainst belt or any other object to hold the slide while shopter pushed the gun forward to cycle the action.