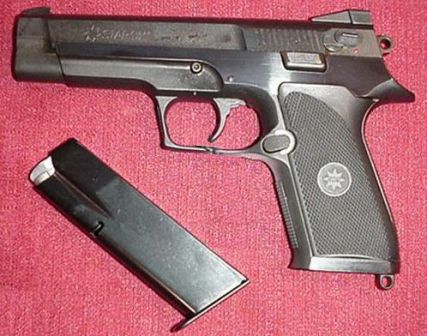 Characteristics
Type: Double Action
Chamber: 10mm Auto or .45ACP
Weight unloaded: 1400 g
Length: 212 mm
Barrel length: 116 mm
Capacity: 14 (10mm) or 12 (.45) rounds
The Megastar pistol is a heavy, powerful pistol, which appeared on the markets in 1993. It was designed and manufactured by the Spanish company Star Bonifacio Echeverria SA, and its design is based on the previous guns by the same manufacturer, such as Star 30M. Production of the Megastar was completed in the late 1990s.
Megastar is a recoil operated, locked breech semi-automatic pistol. It uses a Browning High-Power type locking system with tilting barrel. Megastar is a hammer fired pistol, with double action trigger and ambidextrous, slide mounted safety-decocker lever. The safety lever has three positions: upper one for "fire" mode, red dot is shown; medium one for "safe" mode, this withdraws and locks the firing pin; and the lower one for safe decocking (after decocking safety lever springs back to the "safe" position). Megastar also features a magazine disconnect safety which does not allow to fire the gun withouth magazine in the place. Megastar slide and frame are made from the steel, and like other latest Star pistols, Megastar has internal slide rails, instead of more usual external rails. This pistol features non-ajustable sights. Magazine capacity is quite impressive, especially when speaking about the period of the early 1990s, and is 12 rounds of .45ACP or 14 rounds of 10mm Auto.
Overall, Megastar represents one of the strongest designs in auto-pistols, heavy but powerful and built to last forewer. Heavy weight also helps to control the recoil of the powerful cartridges used.