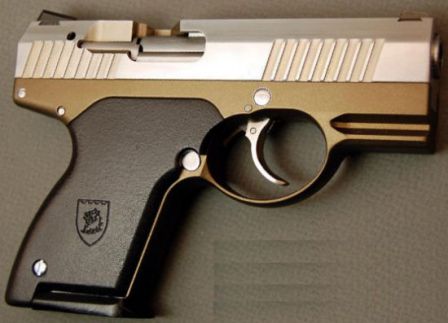 Prototype Boberg XR-9 pistol, right side
Prototype Boberg XR-9 pistol, left side
Boberg XR-9 pistol, diagram; note how the feed claws are gripping the topmost cartridge in the magazine before pulling it back and up for loading into the barrel
Prototype Boberg XR-9 pistol, partially disassembled
Boberg XR-9 pistol (top) compared to Kahr PM9 pistol (bottom). Both guns are of very similar size and same caliber (9mm), but note the 29% difference in the barrel lenght, obvious by location of the ejection ports
| | |
| --- | --- |
| Type | Double Action Only semiautomatic |
| Caliber(s) | 9×19 mm Luger / Parabellum |
| Weight unloaded | 555 g / 19.5oz |
| Length | 147 mm / 5.8" |
| Barrel length | 107 mm / 4.2" |
| Magazine capacity | 7 rounds |
The XR-9 pistol is the product of the small US-based private enterprise Boberg Engineering, run by Arne Boberg. The concept of the XR-9 pistol is to provide ballistics (stopping power and penetration) of the full-size service-type pistol in sub-compact pistol, suitable for concealed carry. Tho achieve this goal, Boberg has used a century-old system of the two stage "pull-push" feeding, first encountered in the Gabbet-Fairfax "Mars" pistol built in England some 100 years ago. Similar system also is used in a number of belt-fed machine guns such as Maxim or Browning or Kalashnikov PK. In pistol, such system allows to extend the barrel further back into the slide and to place its breech area and chamber above the magazine, while in all conventional pistols the breech area of the barrel is located in front of the magazine. Development of this system, was commenced in 2004, with first prototypes being built to fire .32ACP / 7.65×17 ammunition. Those 1st generation prototypes featured gas delayed blowback action, which was later abandoned for reliability issues. Later on, Boberg switched to much more powerful (and certainly much more popular) 9×19 ammunition and rigid barrel locking, and currently (February 2008) his 3rd generation prototype pistols are offered in this caliber. Prototype XR-9 pistols were tested with wide range of ammunition against 'conventional' pistols of similar size. Thanks to significantly longer barrel, Boberg XR-9 provides about 25% increase in power (muzzle energy) compared to pocket pistols of the same size and caliber.
It must be noted that at the present time (Feb, 2008) Boberg XR-9 pistols exist only in prototype form.
Boberg XR-9 pistol is short recoil operated, locked breech pistol. It uses rotary barrel locking with single massive locking lug on the top of the barrel, which engages the slide when in battery. The trigger is of double action only (DAO) type, hammer-fired. The heart of the two-stage "pull – push" feed system is the claw-shaped loader, which is pivotally attached to the slide. When slide is in forward position, the claws are lowered under the barrel breech area, gripping the base of the topmost cartridge in the magazine. When slide is cycled (manually or under the recoil of the previous discharge), the claws pull the cartridge rearwards from the magazine until it is clear; at the end of recoil stroke, claws are lifted to place the cartridge to feed position. On the closing stroke of teh slide, cartridhe is pushed into the barrel chamber, and the feed claws are lowered to grip on the following round in the magazine. Obviously, such system requires specially designed magazines and is somewhat more complicated than standard "push forward" feed system encountered in most other firearms, including pistols. The benefit of this system is significantly increased barrel lenght, which is especially important for compact pistols with shortest possible barrels.