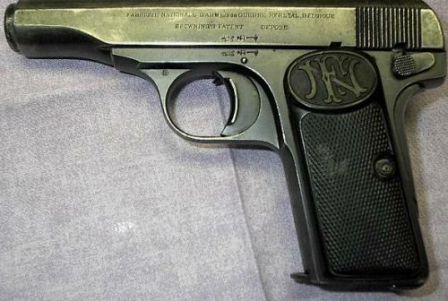 Browning model 1910.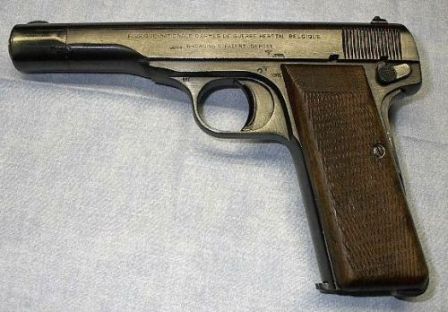 Browning model 1922.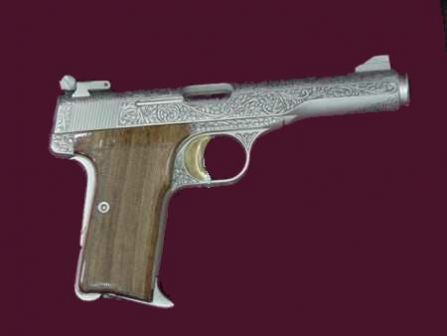 Browning model 380 "Renaissance"-grade factory engraved (post-1971 manufactured model 1922 derivative, made for USA).
Browning model 1922, cut-out view.
Characteristics
Type: Single Action
Chamber: 7.65x17mm Browning (.32ACP) and 9x17mm Browning (.380ACP)
Weight unloaded: model 1910 – ca. 590 g; model 1922 – ca. 700 g
Length: model 1910 – 153 mm; model 1922 – 178 mm
Barrel length: model 1910 – 88 mm; model 1922 – 113 mm
Capacity: model 1910 – 7 (7.65mm) or 6 (9mm) rounds; model 1922 – 9 (7.65mm) or 8 (9mm) rounds
Model 1910 pistol had been developed by John M. Browning for Belgian company Fabrique Nationale (FN), Herstal. Model 1910 had been developed around two cartridges, also designed by Browning – the 7.65mm Browning, also known as .32ACP, which had been developed around 1900 for FN / Browning model 1900 pistol, and the 9mm Browning Short (9x17mm), also known as .380ACP, which, in turn, had been developed about 1908 for Colt / Browning model 1908 pistol.
In 1922, Browning modified the original pistol to suit requirements of the Jugoslavian military – he lenghtened barrel, enlarged the grip and magazine capacity by two rounds. The slide was lenghtened by adding removable frontal portion to the model 1910 slide.
Both models 1910 and 1922 were manufactured in large quantities until 1983 or so, when these guns were replaced by FN model 140DA / Browning BDA380 pistols. In the USA both model 1910 and model 1922 were imported under the name of "Browning 380 pistol", chambered in .380ACP. After the 1971, these guns have had ajustable target-type sights and slightly enlarged grips to suit new US gun laws. Between two World Wars these pistols became very popular across Europe as a police, military and self-defence guns. It is well-known also that the First World War was started by the Browning m1910 pistos, which had been used in 1914 to assasinate the Archduke Ferdinand.
Technically, both m 1910 and m 1922 (also known as model 1910/22), are blowback operated semi-automatic pistols. The recoil spring is located around the barrel, the trigger is of single action type and the gun is striker-fired. Both models featured three safeties – magazine safety (which blocks the firing when magazine is removed), automatic grip safety and manual, frame mounted safety.