Tanfoglio "Standart" (shown here with EAA Corp, USA import marks)
Tanfoglio "Combat"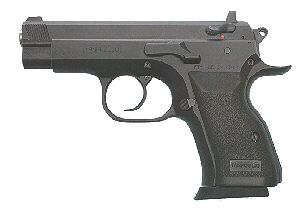 Tanfoglio "Compact"
Tanfoglio "Custom Hybrid"
Type: Double Action
Chamber: 9x19mm Luger/Para, 9x21mm IMI, .40SW; also .38Super, 10mm auto and .45ACP in "Combat" models
Weight unloaded: 930 – 1000 gramms, depending on caliber
Length: 205 mm
Barrel length: 115 mm
Capacity: 17 (.38super), 16 (9mm), 12 (.40sw), 11 (10mm) or 10 (.45acp) rounds
Tanfoglio pistols are manufactured by Fratelli Tanfoglio SpA. company, Italy. Basically, all standart, combat and compact models are all-steel clones of the famous CZ-75 design.
All Tanfoglio Standart and Combat pistols (also known as T95-series) are blowback operated, locked breech semi-auto pistols, that use browning hi-power style linkless system. All T95 pistols feature DA triggers. The "Standart" models feature slide mounted hammer drop safety/decocker lever (ambidextrous as an option), while "Combat" featured frame mounted ambidextrous safety that allows "cocked and locked" carry mode, as well as internal firing pin block safety. Both "Standart" and "Combat" models feature all-steel design. Both have fixed sights with three dots for increased viosibility.
Other than basic models described above, Tanfoglio also manufactured compact models with shortened barrels (down to 92mm) and grips, as well as "Factory Custom" guns for self defence, service carry and competition. The custom features may include extended ambidextrous controls (slide stop lever and safety lever), match triggers and hammers, different compensators and sights.
Tanfoglio pistols are popular defensive and sporting firearms across the Europe. They also are imported into USA by EAA Corp. under the name "Witness".