P-08 – standard sidearm of German Military during WW I and WW II.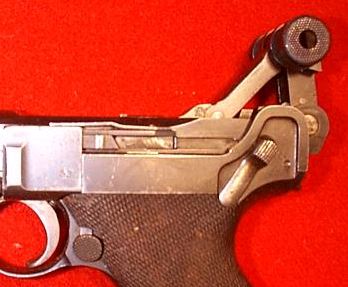 A view of Lugers' proprietary locking mechanism – the breechblock is at the rearmost position here.
Commercial Parabellum in 7.65mm Luger/Para.
Commercial Parabellum carbine in 7.65mm Luger/Para with additional grip safety.
Characteristics
Type: Single Action
Chamber: 7.65mm Luger/Para, 9x19mm Luger/Para
Weight unloaded: 871 g (1 lb 15 oz)
Length: 230 mm (with 102 mm barrel)
Barrel length: 98 mm, 102 mm, 152 mm, 203 mm and others
Capacity: 8 rounds
The 'Parabellum Pistole', commonly referred to worldwide as the 'Luger Pistol', was developed by Georg Luger in Germany in 1898. The term 'Parabellum' comes from the ancient Latin saying: "Si vis Pacem, Para bellum" – if you want Peace, prepare for War. The Luger design is based on an earlier Hugo Borchard idea, but Luger re-designed the Borchard locking system into a much tidier package. Most pre-WW2 Parabellums were developed by the DWM (Deutsche Waffen- und Munitionsfabriken) company in Germany, with some being manufactured under license in other countries. During WW2, many companies, such as Mauser Werke and others, also produced Lugers.
The first country to adopt the Parabellum Pistole was Switzerland in 1901. They adopted the model 1900 Luger, chambered for the 7.65mm (.30) Luger/Parabellum round. In 1902 the DWM, along with Luger, by request of the German Navy, developed the pistol further and introduced a new round – 9x19mm Luger/Parabellum; now one of the most common pistol calibers of the world. This was acheived by re-necking the case of the 7.65mm Luger/Para[bellum] round. This 1904 Luger model, in 9mm, was adopted by the German Navy in that same year(P04), followed by the German army (Reichswehr) in 1908, who designated it as the P08.  Since then, Lugers were adopted by many countries and served actively until the 1950's or so.
All Parabellums are short recoil-operated, locked breech, semi-automatic, striker fired handguns. All Lugers feature a unique locking system, consisting of two tilting-up bars and a recoiling barrel. Some early models featured an automatic grip safety at the rear side of the grip. All of these models also featured a frame-mounted manual safety at the left side of the gun. Lugers were manufactured with differing barrel lengths – the standard German Army Pistole 08 (Luger M1908) had 102 mm barrels; Navy models featured 152 mm (6 inch) barrels, and Artillery models featured 203 mm (8 inch) barrels. Commercial models were manufactured with barrels ranging from 98 mm up to 350 mm (14 inches), some in 'carbine' versions, with an additional forward handguard and detachable buttstock.
Luger pistols are very ergonomical and highly accurate pistols. This is especially true for the period they were developed in. However, they proved all too sensitive to fouling and also could not tolerate even the tiniest manufacturing defects. As well,  they were very expensive to produce when compared to more modern designs of the same period, such as the Browning High Power or Walther P38.