The MAG-95 pistol was designed and produced by famous Polish small arms manufacturer FABRYKA BRONI "ŁUCZNIK" – RADOM in an attempt to replace ageing P-83 pistol chambered in 9×18 PM. Appearing during mid-1990s, MAG-95 has lost Polish army trials to WIST-94 pistol.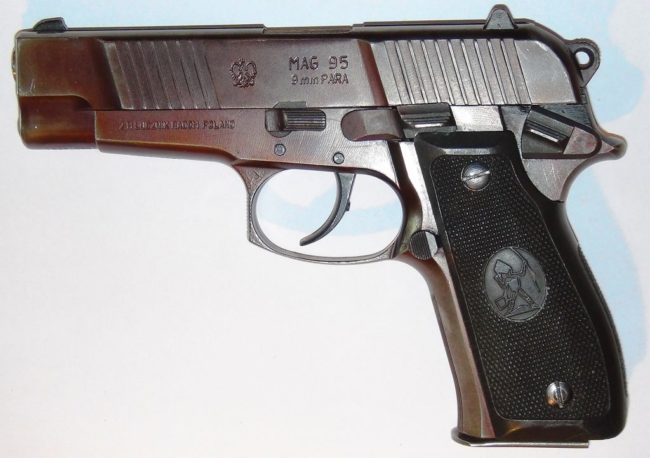 Nevertheless, RADOM factory decided to improve its design and soon introduced the MAG-98 pistol, which was manufactured until 2000. MAG-98 pistol saw limited use with Polish border guards and prison services, and also was sold commercially in Poland and abroad.
MAG-95 pistol is a conventional semi-automatic pistol with aluminum alloy frame. It uses most common Browning-type tilting barrel, short recoil operated action. Trigger is of external hammer, double action type, with frame mounted manual safety. MAG-98 pistol differs by having safety levers on both sides of the frame, plus ambidextrous slide release levers. Both pistols feature fixed iron sights, and double stack, single feed magazines with 15-round capacity.
| Specification | Value |
| --- | --- |
| Full text name | MAG-95 and MAG-98 pistol (Poland) |
| Caliber cartridge | 9mm Luger - 9x19 Luger / Parabellum |
| Action type | semi-automatic |
| Trigger type | da |
| Overall length, mm | 200 |
| Barrel length, mm | 115 |
| Weight empty, kg | 0.9 |
| Magazine capacity, rounds | 15 |