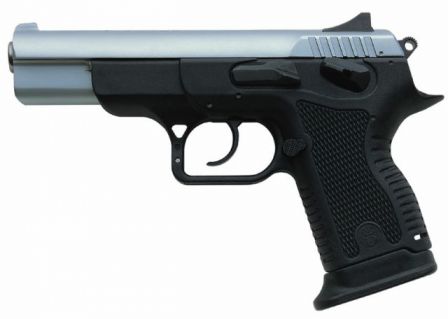 Bul "Impact" pistol, which was a predecessor to Bul "Cherokee".
Bul Cherokee full-size pistol, pre-2005 production.
Image: Bul Ltd
Bul Cherokee full-size pistol, current production.
Image: Bul Ltd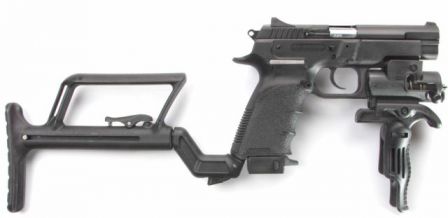 Bul G. Cherokee "Tactical" full-size pistol, with optional shoulder stock and fore-grip.
Image: Bul Ltd
Bul G. Cherokee "Spec-Ops" full-size pistol, with optional shoulder stock, silencer, red-dot sight and tactical light.
Image: Bul Ltd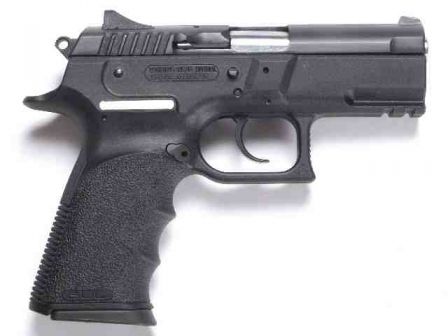 Bul Cherokee Compact pistol.
Image: Bul Ltd
Characteristics
Bul Cherokee
Bul Cherokee Compact
Type
Double Action semiautomatic
Caliber(s)
9×19 Luger / Parabellum
Weight unloaded
705 g
705 g
Length
205 mm (215 mm G. Cherokee)
190 mm (205 mm G. Cherokee)
Barrel length
108 mm
93 mm
Magazine capacity
17 rounds
In around 1999 private Israeli company Bul Ltd developed a new polymer-framed pistol, intended for security, civilian self-defense and sport markets. Designated as Bul Impact, this pistol was based on Italian Tanfoglio line of pistols, itself being a modification over popular Cz-75 pistols. During early 2000s Bul replaced the Impact pistol with more modern Cherokee pistol, which retains same basic Cz-75 type action but has a polymer frame of improved shape, and is also available in several modifications, and in 2005 Bul company further improved Cherokee line with introduction of the new frame design. These pistols are widely used by Israeli security agencies, as well as by several foreign police and military special operation services.
Bul Cherokee pistols are short-recoil operated, locked breech pistols that use modified Browning-type locking. Barrel is cammed in and out its locking recesses in slide by a cam track, cut in the barrel extension located below the breech. Frame is made from polymer, with slide rails being on inner side of the frame / outer side of the slide. Recent production Cherokee pistols have two types of frames – standard and G. type, the latter having wider grip, which better suites shooters with large hands. Additional benefit of G. Cherokee pistols is that these can accept optional detachable shoulder stocks which are installed using a hollow cavity in the bottom back of the (wider) grip. Frames of all current production Cherokee pistols are provided with integral Picatinny type rail. Triggers are of double action type, with exposed hammers and frame-mounted safeties. Safety mechanism permits for "cocked and locked" carry. Magazines are of double stack design.
Bul Cherokee pistols produced in two sizes – standard (full-size) and compact, which feature same frame but shorter barrels and slides and thus are better suited for concealed carry.