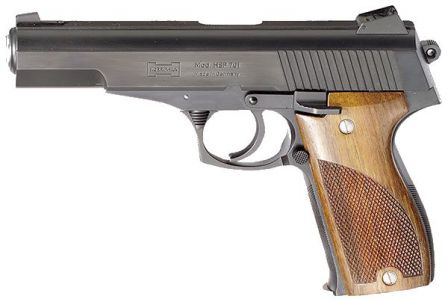 9mm Korriphila pistol with 127mm / 5.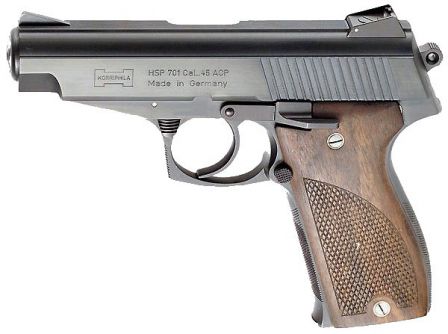 .45ACP Korriphila pistol with 102mm / 4.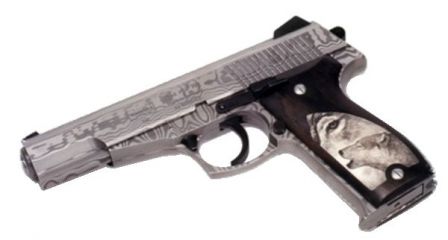 Korriphila Odin's Eye pistol, made from Damascus steel, with custom grip panels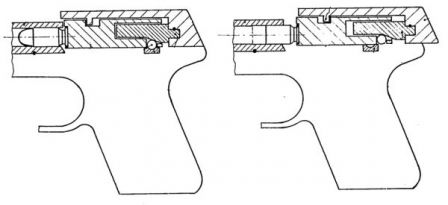 Diagram from original Budischowsky patent, explaining roller-delayed blowback action of Korriphila pistol.
Characteristics
| | |
| --- | --- |
| Type | Double Action semiautomatic |
| Caliber(s) | 7.65×21 Luger, 9×19 Luger, .38 Super, .45ACP |
| Weight unloaded | 1000 g (with 100 mm barrel), 1200 g (with 127mm barrel) |
| Length | n/a |
| Barrel length | 100 mm (4") or 127 mm (5") |
| Magazine capacity | 9 (7.65 and 9mm) or 7 (.45) rounds |
Korriphila pistols, currently made in Germany by Intertech, represent the top line of European custom pistols. Basic design was a brainchild of the Edgar Budischowsky, who patented its delayed blowback action in 1979. The action is somewhat similar to older Vorgrimler roller-delayed system, developed during WW2 and later used in a number of firearms from Heckler und Koch, such as P9S pistol or MP5 submachine gun. Korriphila pistols are made on custom basis, and it is said that only few dozens of new pistols are produced each year. Made with very tight tolerances and luxurious finish, these pistols command prices in the US $ 4 000 region, and a special-order Odin's Eye versions, which had frames and slides milled from the solid blocks of Damascus steel, cost at least three times more. While these pistols can be used for personal self-defense, they certainly have more value as collectables and investment pieces.
Korriphila pistols are delayed blowback firearms that use a single roller, interposed between a separate breechblock and a slide. When slide is in battery, roller extends below into the cut in the frame. Upon recoil, breechblock forces the roller back and out of its recess, which causes the slide to open faster than the breechblock. This system is basically a half of the more common Vorgrimler system, turned 90 degrees. Trigger is of double action type. Magazines are single stack.