B+T USW (Universal Service Weapon) pistol carbine with shoulder stock folded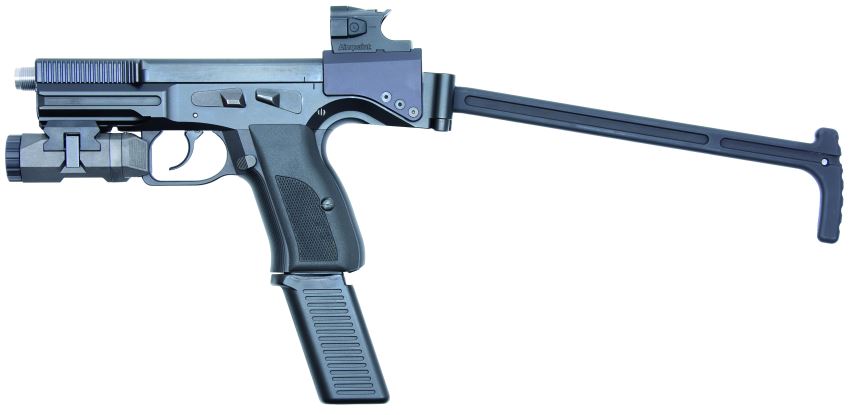 B+T USW (Universal Service Weapon) pistol carbine with shoulder stock unfolded

B+T USW (Universal Service Weapon) pistol carbine with shoulder stock folded

B+T USW (Universal Service Weapon) pistol carbine with shoulder stock folded, carried in a special plastic holster also made by B+T
| | |
| --- | --- |
| Trigger type | Double action or pre-cocked Striker |
| Caliber | 9×19 |
| Weight, empty | 1.16 kg |
| Length | 253 mm stock folded, 486 mm stock opened |
| Barrel length | 105 mm |
| Capacity | 17, 19 or 30 rounds |
The B&T USW (Universal Service Weapon) is an interesting new sidearm designed by Swiss company B+T AG. It was first introduced in 2016. This handgun brings the old concept of the stocked pistol to a whole new level. They did this by making it really comfortable to carry – much like a conventional pistol, fast to deploy as a hand- or shoulder-fired weapon, and much more accurate than a conventional handgun thanks to the integral shoulder stock and red-dot sight.
It is a well known fact that pistols are notoriously hard weapons to master, and usually a shooter is capable of much worse accuracy than a typical modern pistol can exhibit in ideal conditions. One known solution for this is to fit some sort of shoulder stock to the pistol, turning it into a kind of carbine that is much more stable and thus easier to aim and fire accurately.
However, until recently stocked pistols have been quite clumsy to carry with their combination shoulder stocks/holsters (older guns like the Mauser C96 or Stechkin APS come to mind first). They almost always tended to be  slow to deploy in "carbine" mode also. The B+T USW solves this problem by providing an integral side-folding shoulder stock. This folds along the gun when it is carried in its special holster or fired off-hand, and can be unfolded in a second when the tactical situation calls for accurate "long range" fire (any distance beyond 20-25 meters is to be considered long range for typical pistol combat shooting).
Combined with integrated Aimpoint "Nano" red dot sight this makes the USW a formidable duty gun for police, security and other law enforcement services. The USW is a compact service sidearm with practical accuracy capabilities beyond most typical  pistols on the market. It also might serve as a platform for a military PDW (Personal Defense Weapon). For the moment though, this weapon is semi-auto only and most military services prefer select-fire guns for this role.
Technical Description:
The B+T USW is a short-recoil operated, semi-automatic handgun utilising a Browning-type action with tilting barrel. The USW-A1 is based on the famous CZ-75 pistol. There are actually some parts from those pistols used in the USW, purchased from the now-defunct Swiss 'Sphinx' company, previously licensed to produce CZ-75 copies.
The B+T USW-A1 features conventional hammer-fired DA/SA action with frame mounted ambidextrous safety, and a striker-fired, polymer-framed USW-SF  version released in 2018. The frame of USW-A1 is made from aluminum alloy, and features an unusual rear extension that wraps around the rear part of the slide, providing a stable platform for the integrated red dot sight while protecting the shooter's palm from any sort of hammer or slide-bite.
The rear of the extended frame contains a hinge for the shoulder stock that folds forward and to the right when not required. Accessory MIL-STD rail is provided on the frame in front of the trigger guard, used to install flashlights and / or laser pointers. The barrel is threaded from the factory and can accept quick-detachable sound suppressors also made by B+T.
A special duty holster, made from polymer, is designed by B+T to comfortably carry both USW versions with stock folded and red-dot sight protected from external damage, yet still be ready to deploy quickly in a critical situation.