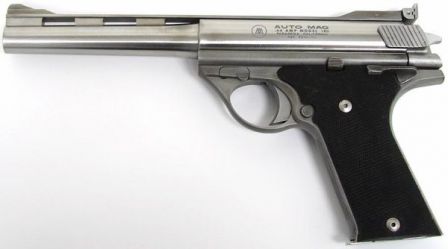 Early production Auto Mag model 180 pistol, caliber .44AMP, left side
Early production Auto Mag model 180 pistol, caliber .44AMP, right side
Auto Mag model 280 pistol, caliber .44AMP, made by TDE Corp.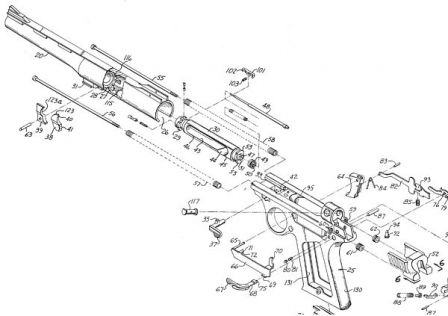 drawing from original patent (US 3,780,618 issued to Harry Sanford on Dec 25, 1973), that displays the basic design of Auto Mag pistol
| | |
| --- | --- |
| Type | Single Action semiautomatic |
| Caliber(s) | .357AMP .44AMP |
| Weight unloaded | ~ 1630 g (with 165mm barrel) |
| Length | n/a |
| Barrel length | 165 or 216 mm (6 1/2 or 8 1/2 inch) |
| Magazine capacity | 7 rounds |
The original Auto Mag pistol was conceived by American businessman Harry Sanford during late 1960s. Sanford envisioned the semiautomatic pistol, similar in power to the very powerful Smith&Wesson .44 Magnum revolvers, but with less recoil and more round capacity. For his project, he used an wildcat .44 caliber (actual bullet diameter 0.429 inch – 10.9mm) cartridge, that was around since late 1950s. This cartridge was based on shortened .308 Winchester (7.62x51mm) case, that pushed 240-grain (15.5 gram) bullet to velocities like 1680fps (512m/s), giving a muzzle energy of roughly 1500 ft-lbs (~2000 Joules). By 1971, Harry Sanford also introduced the .357AMP cartridge, which used .44AMP case necked down to accept .357 caliber (9mm) bullet. With 150-grain (9.7 gram) bullet, this mighty .357 cartridge developed muzzle velocities in excess of 1750 fps (533m/s). Production pistols with model numbers 180 and 280 were made in .44AMP caliber, models 160 and 260 were made in .357AMP caliber. The key niche for such monstrous pistols was the handgun hunting (sport rather popular in USA), as well as silhouette shooting.
Prototype pistols were designed by Max Gera for Harry Sanford's Auto Mag Corporation in around 1970. Production history of these original Auto Mag pistols was rather turbulent: After short time Auto Mag Corp went bankrupt, and a new company, TDE Corp, was established to continue production of Auto Mag. Later on, more Auto Mag guns were made by OMC Corp and High Standard Corp. Overall production of Auto Mag pistols is estimated at about 9 500 guns, made between 1971 and 1982.
It must be noted that back in early 1970's Auto Mag pistols were in a class of its own – there were no other production pistols with such power; rivals like Wildey and Desert Eagle appeared later than Auto Mag. Also, the "original" Auto Mag pistols should not be confused with later Automag II – V pistols, which also were designed by Harry Sanford made by AMT during 1990s.
Auto Mag pistol is locked breech, short recoil operated pistol that uses rotating bolt locking. Most parts of pistol are made from stainless steel. Barrel has a large tubular extension which contains cylindrical bolt with radial locking lugs. Upon recoil, bolt is rotated by the fixed (but removable) pin, inserted through the frame into the curved slot, made in the bolt body. At the rear, bolt is fitted with cocking knob that projects from the back of the barrel extension and has gripping serrations. Dual return springs are located below the barrel, in cylindrical channels at each side of the frame; spring are connected to the bolt via two recoil rods. Another unusual feature is the bolt recoil accelerator, that, after unlocking, transfers the energy of recoiling barrel to the bolt, thus improving reliability of the weapon. Trigger is of single action type, with exposed hammer and frame-mounted manual safety. Barrels are easily interchangeable, and since both .357AMP and .44AMP cartridges have same case head dimensions, change of calibers requires only installation of appropriate barrel. There were many variations of Auto Mag barrels, with or without sighting rib, with various lengths and profiles. However, fully adjustable sighs were standard on all barrels.