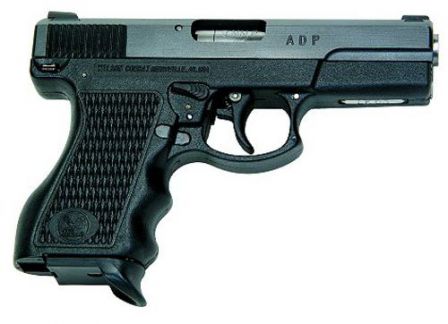 ADP pistol, right side.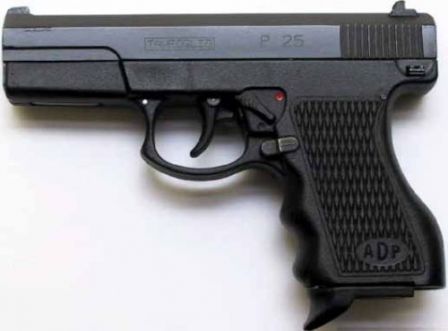 ADP pistol, left side; note that pistol bears Italian "Tanfoglio P 25" markings on the slide.
Characteristics
| | |
| --- | --- |
| Type | Double Action Only with pre-cocked striker |
| Caliber | 9×19 Luger / Parabellum (also .40SW) |
| Weight | 560 g (19.5oz) empty |
| Length | 160 mm (6.3") |
| Barrel length | 95 mm (3.75") |
| Magazine capacity | 10 rounds |
The ADP (Advanced Defensive Pistol) has been developed by South African gun designer Alex Du Plessis in about 1991. ADP pistol was intended for concealed carry by various police and security services, as well as by civilian users. First production guns appeared in 1994 from South African company Aserma. At about the same time, rights for ADP design were sold to Italian company Tanfoglio, that briefly manufactured ADP as Tanfoglio P-25. Same pistol also was sold in USA trough second half of 1990s as Heritage Stealth. In the year 1995, an improved version of the basic design was introduced, the ADP mark II pistol. In about 1998, the noted South African arms making company Truvelo Armory took over production of ADP pistols, chambered for 9mm and .40SW ammunition. A new .45ADP (based on shortened .45ACP case, basically similar in concept to current .45GAP) round also was advertised in this pistol, but apparently it was never made in quantity. In the year 2004 it was announced that Truvelo will cease production of ADP pistols because of "insufficient market demand", but early in 2006 US-based company Wilson Combat announced that it will import newly made ADP Mark II pistols into United sates under its own name, so it seems that production of this gun will be resumed.
ADP pistol uses gas-delayed blowback action with stationery barrel. Gas piston is located below the barrel, and hot powder gases are fed there from the bore via small port near the chamber. Gas piston is inserted into the cylinder from the front, and is connected to the slide, in the same manner as in famous HK P7 pistol. The frame is made from impact-resistant polymer, with removable steel insert that hosts slide rails and barrel. Trigger is striker-fired, double-action only with pre-cocking (therefore second strike on misfired round is impossible without at least a partial slide retraction). Manual safety is somewhat unusual in its placement, as its levers are located just behind the trigger, at either side of the frame. Sights are fixed, with the rear sight blade dovetailed to the slide.