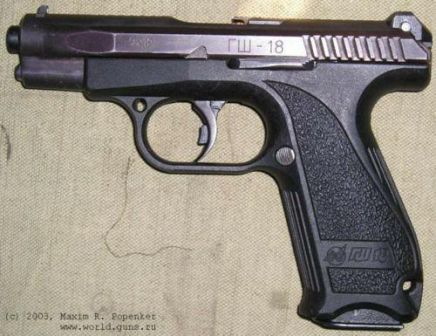 GSh-18 pistol, early (~2003) production version

GSh-18 pistol, current (~2012) production version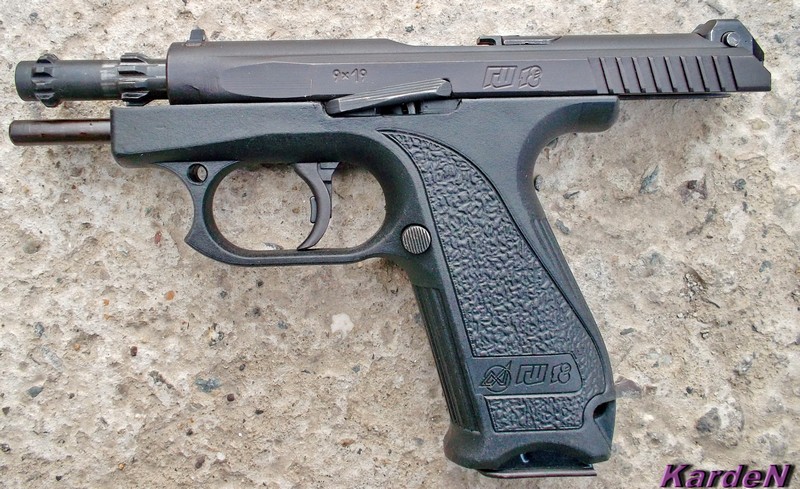 GSh-18 pistol, current (~2012) production version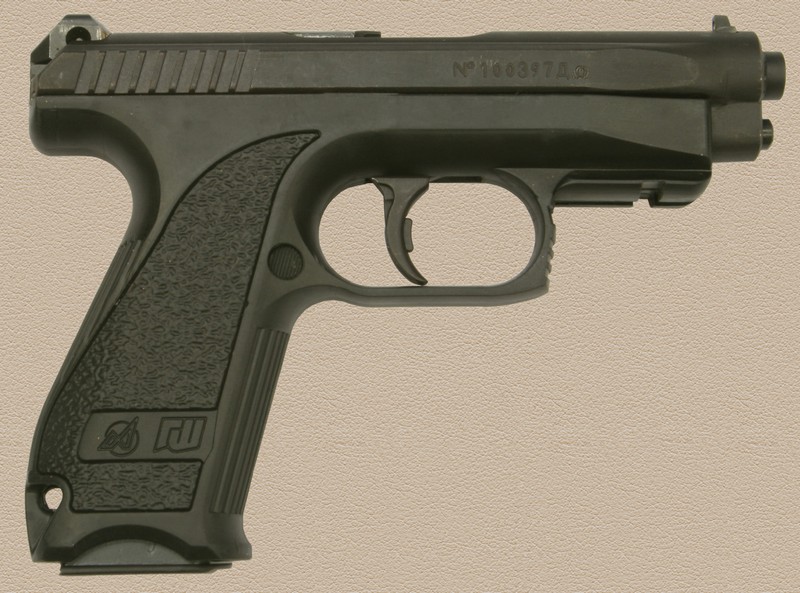 GSh-18 pistol, current (~2015) modified version with Picatinny rail on the frame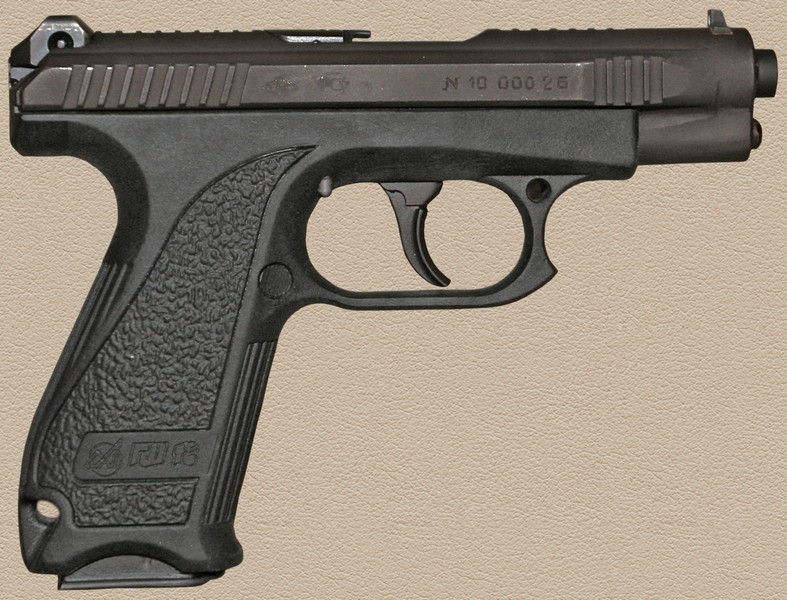 GSh-18 Sport pistol, intended for IPSC and IDPA disciplines
center">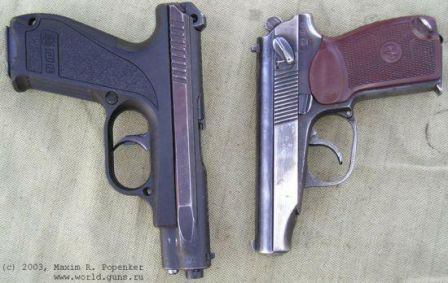 Gsh-18 compared to the famous Makarov PM pistol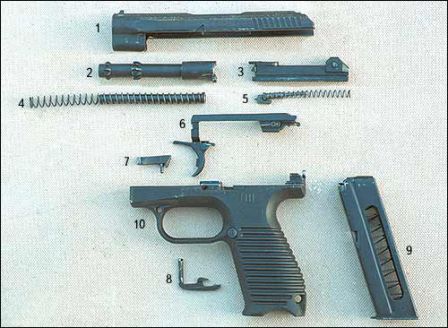 GSh-18 field-stripped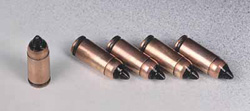 9x19mm PBP armour-piercing ammunition, developed for GSh-18
Type: Double Action Only
Chamber: 9x19mm Luger / Parabellum (also 9x19mm +P+)
Weight with empty magazine: 580 g
Length: 183 mm
Barrel length: 103 mm
Capacity: 18 rounds
The GSh-18 pistol was developed in mid-to-late 1990s in Russia, by the KBP (Equipment manufacturing Design Bureau) in Tula. The GSh stands for Gryazev and Shipunow – chief designers of the pistol, who are famous for their aircraft cannons, bearing the same name (GSh-23, GSh-301 etc). 18 stands for magazine capacity.
GSh-18 was developed as a military sidearm, capable to defeat current body armour. To achieve good penetration, designers of KBP first developed a special, very hot version of the 9x19mm Luger / Parabellum round, with light and fast bullet with hardened steel core (4.2 gram @ 600 meters per second, or 65 grains @ 1970 fps), called 9mm PBP. PBP ammo can penetrate 8mm plate of mild steel at 20 meters, or any Class III bulletproof vest at the same range. Early prototype pistols of the KBP were known as P-96 but they were unsuccessful, so new pistol was developed about 1998. It went to official military trials in 2000 and passed it successfully. During early 2000s GSh-18 was formally adopted by Russian MVD and military, and is now in limited production. It is usually issued to special SWAT-type police units across the Russia. The GSh-18 Sport is a limited production version of the basic combat pistol, intended for use in shooting competitions according to IPSC or IDPA rules. It features slightly improved trigger (with no trigger safety) and reduced capacity (10 rounds) magazines. In Russia, GSh-18 Sport pistols are sold only to shooting clubs, whch then rent these pistols to sportsmen.
GSh-18 is a recoil-operated, locked breech pistol. It uses short recoiling barrel that rotates to lock and unlock from the slide. Unlike the other rotating barrel pistols, barrel of the GSh-18 has multiple (10) locking lugs, and rotation angle is as low as 18 degrees. The frame is made from tough polymer with steel inserts and slide rails. Slide is stamped from the steel, with pinned locking insert and detachable breech block. The trigger is Glock-alike – striker-fired, with pre-cocking during the recoil cycle and manual full cocking by the pull of the trigger. When striker is half-cocked, its rear portion [protrudes from the back of the slide for about 1 mm, giving an visual and tactile indication that gun is ready to fire. GSh-18 is equipped with automated, Glock-like trigger safety and additional firing pin safety. Ejection port is located at the top of the slide with ejection straight up and to the back. Magazine is a two-column type without transformation to the single column at the magazine exit for increased feed reliability. The latest variants featured removable front sight and rear sights mounted on the breech block. Sights feature white-dot inserts for faster aiming. One of the most discussed features of the GSh-18 is a slide that is open at the front. Critics said that the dirt will easily go into the slide interior via this opening and pistol reliability will be decreased at least. So far there were no firm proofs that this is an issue..
GSh-18 can fire any commercial or military 9mm Luger/Parabellum and 9mm NATO ammunition, plus Russian armour-piercing, high-power (roughly equivalent to 9mm +P+ or even hotter) ammunition, 9mm 7N21 and 9mm PBP (7N31). GSh-18 is reported as accurate and comfortable to fire, and very light for its class.