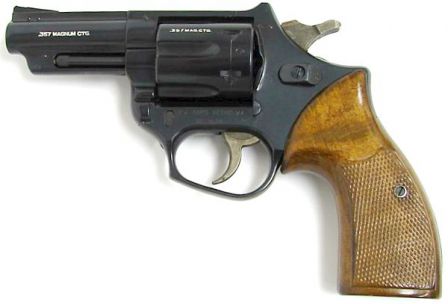 FN Barracuda revolver with .357 magnum cylinder installed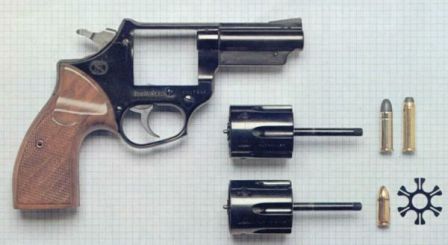 FN barracuda revolver with both cylinders removed (.357 / .38 top, 9×19 bottom). Also shown are cartridges of respective caliber and a steel clip for 9×19 ammunition
Image: FN Herstal – promotion pamphlet
| | |
| --- | --- |
| Type | Double Action revolver |
| Caliber(s) |  .357 Magnum / .38 Special and 9×19 Luger, interchangeable |
| Weight unloaded | 1050 g |
| Length | 211 mm |
| Barrel length | 76 mm (3″) |
| Capacity | 6 rounds |
The FN "Barracuda" revolver was the only known attempt of the famous company FN Herstal to produce a revolver. It was developed during the early 1970's and offered up for police sales in 1974.
This weapon was developed as a versatile police sidearm, fitted for the European and American markets. At the time, the US police market was dominated by .38 Special and .357 magnum revolvers, and the European police market was mostly taken up by pocket-type automatic pistols. Trends were starting to move towards 9×19 Luger caliber.
Considering all that, as well as the very close similarity in bullet diameter of all of those rounds, FN decided to produce a revolver that could interchangeably fire them all. To change between "American" .357 / .38 calibers and "European" 9mm Luger (Parabellum), one must simply install the appropriate cylinder to a basic gun frame. As the 9mm ammo is rimless, to achieve reliable extraction and fast loading, 9mm rounds are loaded using special star-shaped flat clips that hold 6 rounds together. Rimmed revolver rounds are extracted using their rims, and can be loaded one by one or 6 rounds at once using the same speedloaders as developed for Smith&Wesson K-frame revolvers. 9mm rounds can also be loaded one by one without a clip, but extraction would be problematic.
FN revolvers were of sound quality, but somewhat heavy and came to the market a bit late to sell well. It is believed that FN manufactured several thousands of these guns during the mid-70's. The FN "Barracuda" revolver is a more or less traditional double-action revolver with a swing-out cylinder.
The firing pin is installed in the frame of the gun for better safety. It is of an all-steel construction, with solid frame and heavy, lugged barrel. Only one barrel length of 3 inches (76mm) has ever been available. Sights were fixed, with the front sight blade pinned to the barrel.
Barracuda revolvers were promoted as multi-caliber and thus ought to have two removable cylinders, one for .38 and .357 caliber rimmed revolver ammunition, and another for rimless 9×19 pistol ammunition. each cylinder was marked with its respective caliber. It must be noted, however, that 9mm cylinders seem to be quite rare, and most available guns are in .38 / .357 caliber only.
It is NOT advisable to load 9×19 cartridges into cylinders NOT marked for this ammunition.