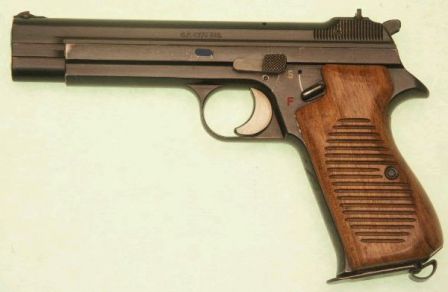 Early production (pre- P210 designation) SIG S.P. 47/8 pistol, left side
Early production (pre- P210 designation) SIG S.P. 47/8 pistol, right side
SIG P210-2, basically same as the Swiss Army Pistole 49. These pistols were available with either wooden or black plastic grips.
SIG P210-4, as made for West German BundesGrentzSchutz (Border Guard). Note that it has no lanyard ring on the grip
SIG P210-5, a dedicated "Sport" version with long barrel and adjustable sight
SIG P210-7, a small-bore .22LR training / sport pistol.
SIG P210 partially disassembled
Buy SIG-Sauer pistols at Impact Guns online store
Type: Single Action
Chamber: 9x19mm Luger/Parabellum, 7.65x19mm Parabellum, .22LR (all interchangeable)
Weight unloaded: 900 g
Length: 215 mm
Barrel length: 120 mm (150 mm in P-210-7)
Capacity: 8 rounds
The SIG P210 pistol was born from Swiss Army trials for a new military pistol, which were conducted between 1943 and 1947. SIG based its pistols on patents of Charles Petter, bought from France during the late 1930s. Early SIG pistols displayed the clear influence of Petter designs, being copied from his French Mle.1935 pistol. In the search for an ideal military pistol both W+F (State owned arsenal in Bern) and SIG also tried both single-stack and double-stack magazine designs. Interestingly enough, the Swiss army found thick-gripped pistols with double-stack magazines to be less accurate, due to their less comfortable grip; so only single-stack designs competed in the last stage. In the final chase between the W+F 47 and SIG S.P. 47/8 the latter won the trials, and in 1949 it was officially adopted as Selbstladepistole SP/49 (or Pistole 49 for short). Also known as the "Neuhausen" (after the city where pistols were made), the S.P. 47/8 (before adoption of the P210 trade mark in 1957) or under its current commercial designation of SIG P210, this pistol quickly earned the distinction of being the most accurate and most expensive military pistol ever made. Also adopted by the army of Denmark, as well as the West German Border police (BSG – Bundesgrentzschutz) and some Swiss police units, this pistol was later converted with a series of sport modifications, and a great many shooting matches were (and still are) won with this gem of workmanship.
The SIG P210 is a short-recoil operated, locked-breech pistol of all-steel construction. It is somewhat unusual in that it has inner slide rails, that is, full-length slide rails are machined on the inside of the frame. Most parts are machined from solid steel forgings and then hand fitted. This results in increased durability and accuracy, but also greatly increases the cost of manufacture. The locking system is of the Browning type; the barrel locks into the slide with two lugs which fit into cuts on the underside of the slide. Unlocking is controlled by a cam-shaped cut made in the lug below the chamber area. The trigger is single-action, with an external hammer and a frame-mounted safety. In line with older Petter patents, the hammer, its spring and sear are made into a single removable unit. On service type pistols sights are fixed; both front and rear sight blades are dovetailed to the frame. Magazines are single-stack; magazine release is located at the base of the grip (except for recent production P210-8 pistols, made for US market, which have a button-type magazine release at the base of the trigger guard).
Over time, there have been several modifications of the basic P210 design, distinguished by digits after the dash, i.e. P210-2, P210-4, P210-5 etc. While service guns were made in 9mm caliber only, commercial pistols were also available in 7.65×21 Luger/Parabellum caliber, as well as in 5.6mm rimfire / .22LR. Caliber conversion units were available, as well as a complete kits that included one frame, two slides (7.65/9mm and .22LR) and three barrels and return springs.
The basic versions of P210 included the following:
· P210-1 – commercial version with polished finish
· P210-2 – same as the service type SP/49; matte finish
· P210-3 – version for Swiss police, polished finish, fixed sights
· P210-4 – version made specifically for the German border police (about 5,000 made, most in 9mm and a few in .22LR for training); has no lanyard ring on the grip
· P210-5 – sport type commercial pistol with adjustable sights, and standard or extended 150mm barrel
· P210-6 – sport type commercial pistol with fixed sights; differs from P210-2 with better finish and more expensive grips
· P210-7 – dedicated .22LR version
· P210-8 – "American" version with side-mounted magazine release
Manual safety: lever on the left side of the frame. Push lever up into horizontal position (marked with white "S" letter) to engage safety; pull it down to disengage safety, position is marked with a red "F".
How to field- strip (disassemble) P210: 1) remove the magazine by pressing the magazine release button; 2) check that the chamber is empty; 3) pull the slide back slightly, to align disassembly marks on the slide and barrel; 4) holding the slide partially retracted, push the slide stop axis pin inwards from the right, then pull the slide stop lever out of the frame toward the left; 4) carefully push the slide forward and out of the frame; 5) pull the hammer unit up out of the frame; 6) remove the return spring with its guide from below the barrel; 7) pull the barrel out of the slide.
Reassemble in reverse order.