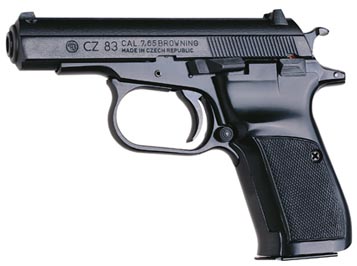 CZ 83 – commercial version of the CZ 82 in 7.65x17mm (.32 ACP)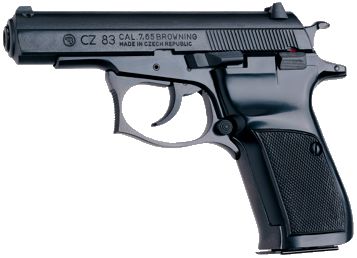 Another variation of CZ-83, with reshaped trigger guard
Cz-83 diagram
Type: Double Action
Caliber 9×18 mm Makarov, 9×17 mm (.380ACP), 7.65×17 mm (.32ACP)
Overall length 172 mm
Weight 920 g loaded
Barrel length 96 mm
Magazine capacity 12 rounds (9mm), 15 rounds (7.65mm)
The Vz.82 pistol is a standard sidearm of the Czech army since 1982. Vz.82 was manufactured from 1983 to 1992, when it was merged with similar commercial design CZ-83 (originally offered in 7.65 Browning and 9mm Browning Short). Since 1992 and until now, only CZ-83 is manufactured in all three chamberings, to save the costs. Vz.82 was developed to replace the obsolete 7.62mm Vz.52 pistols then in service with Czechoslovak army. During early 1980s Czechoslovak army, under pressure from USSR, replaced the older 7.62x25mm ammunition with Soviet 9x18mm Makarov ammunition, which also required a new pistol. Instead of simply taking the Soviet design (Makarov PM) along with its cartridge, Czechs developed their own pistol, which, in some respects, is superior to the "gun of the big brother" (Makarov PM). They also produced their own 9×18 ammunition as "pistolovy naboj Vz.82", which they claimed to be 20% more powerful than standard Soviet 9×18 PM ammunition. The Vz.82 pistol, developed at the CZ factory in Uhersky Brod, has greater magazine capacity (12 rounds vs. 8), better fit and finish, and much better ergonomics. On the other hands, Vz.82 is more complicated and, thus, is more expensive to make. Still, it is an excellent and reliable pistol, one of the best defensive pistols on the market today. It is somewhat heavy by modern standards, but the all-steel construction makes it almost indestructible, and additional weigh helps to control pistol in rapid fire.
Seeing the commercial potential of this pistol, Czechs brought it to the international market under the designation of CZ-83. It is now available in its original chambering, 9x18mm Makarov, as well as in 9x17mm Browning Short (.380ACP) and 7.65x17mm Browning (.32ACP).
The CZ-83 is a blowback-operated pistol with fixed barrel. Return spring is located around the barrel. Double action trigger with exposed hammer has a very smooth pull in both SA and DA modes. Ambidextrous frame-mounted safety locks the slide and sear when engaged, allowing for "cocked and locked" carry. Frame and slide are made of high grade steel. Magazine capacity is 12 rounds, sights are of fixed type and dovetailed into the slide.